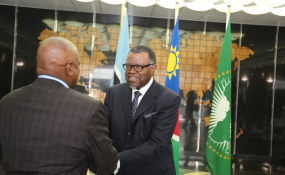 Photo: Hage Geingob/Twitter
Luanda — Bilateral issues in the framework of strengthening cooperation between Angola and Botswana topped the meeting between Presidents of Angola, João Lourenço and Botswana, Mokgweetsi Masisi, on Thursday in Luanda.
As part of a tour of several Southern African countries, the President of Botswana is in Luanda to discuss issues of cooperation with his Angolan counterpart.
Mokgweetsi Masisi, 55, is the fifth President of Botswana since 1 April. He replaced Seretse Khama Ian Khama, who resigned from the post, and will lead the country until the general elections of 2019.
With this trip, which has already taken him to Namibia and Zimbabwe, the Tswanese statesman fulfill a tradition maintained by the Southern Africa countries, to make courtesy visits to the region States, soon after taking the office.