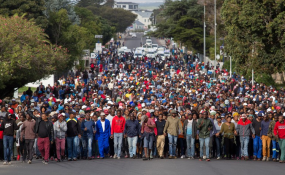 Photo: Ashraf Hendricks/GroundUp
Four people arrested for public violence, after a thwarted attempt to peg out plots of land in Zwelihle, Hermanus, have been released on a warning.
The four were set free during their bail hearing in the local Magistrate's Court on Thursday.
Magistrate Jeremy Maarman said he found that the evidence given so far against two of the accused - Busiswa Mandoyi and Ntombifikile Njumbu - was problematic.
"They were found at the back of a shack, hiding [when police caught them]," he said.
"With regards to accused nine and 10, they were caught while the crowd started running and the police gave chase," Maarman continued.
"This was even before this protest escalated into a violent protest."
In light of this, the four were allowed to go home but were warned to return to court at 08:30 on Friday for the full bail judgment.
Their seven co-accused will also be back in court on Friday, when the outcome of their applications for bail will be revealed.
"In terms of accused one to seven, the court would rather postpone this case [to] tomorrow, April 13, for a full judgment," Maarman said.
All 11 accused are in their 20s and 30s.
They are Mandoyi, Njumbu, Menzi Fokazi, Sive Bophani, Qhawe Bawdeza, Fezile Mzimeli, Mncedisi Ntantala, Deyiti Ntshono, Mthuthuzeli Thembani, Fezeka Mjuleni and Xoli Mkhwe.
They were arrested on March 23 and 25.
Presenting his argument in the bail application, lawyer Dante van der Merwe submitted that the State had not proved its case that the accused were a danger to the community, that they posed a flight risk or that were at risk of committing a crime.
However, prosecutor Harold Engelbrecht insisted there was a prima facie case against them.
The 11 accused were part of a larger group of 67 people, who were arrested during violent land protests in Hermanus last month.
A second group of 27 accused - who also form part of the 67 people arrested - are in custody because the court did not have time to deal with their applications for bail on Tuesday.
Their bail hearing has been set down for April 18.
A third group of 29 accused will be in court on April 19 for a separate bail hearing, which is also related to the land protests.
On March 22 groups started marking out plots of land at sites in Zwelihle with the intention of building houses on the property. They wanted the Overstrand Municipality to provide utility lines.
The council stopped this, sparking the protests. Shops were looted and a large group of Somali residents fled during the chaos.
Before Maarman's decision on Thursday, business representative Hamish Hofmeyr had testified.
Hofmeyr told the court that the unrest had caused millions of rands in losses to the usually quiet tourist town, as well as a huge emotional impact.
Hotel and B&B bookings were cancelled during the peak of the unrest on March 23, 24, and 25, and trucks could not get enter the town with fresh stock for businesses. The cancellations spilled over into the Easter holiday season.
Besides damage to public property, there was also damage to some private businesses along Swartdam Road. Shop owners in Zwelihle suffered damages and some had to close up their shops, while businesses belonging to others were burnt down.
Hofmeyr said many shops had to be closed because staff could not get to work, and trucks could not bring stocks into town for businesses, which led to losses.
The court also heard that a police station and municipal building were torched, as well as a bus, a law enforcement vehicle, and a private vehicle. Equipment was also stolen from a library and a school and there was an attempt to burn down the library.
Restaurants were closed because of a lack of staff and big retailers, such as Checkers and Woolworths, closed their doors for a while, as well as shops at a mall near Zwelihle.
He said Hermanus relied on the residents of Zwelihle for specific skills in key positions, such as hotel chefs, waiters and managers.
"One of the major losses is, I think, with employees not being able to come to work [and] a lot of people [who operate] on a no-work-no-pay basis," he said.
"So, a lot of wages and salaries were lost by people not being able to come to work."
However, he added that, after March 27, the town was back to normal and business picked up again. The resumption of normal activities followed a mass community meeting and a visit by Human Settlements MEC Bonginkosi Madikizela-Mandela and municipal officials.
Madikizela-Mandela's office has indicated that two parcels of land have been identified for the community.
However, further details are not available yet.
News24