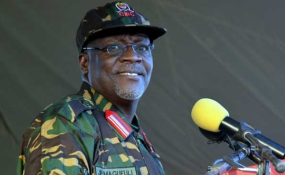 Photo: The Citizen
PRESIDENT John Magufuli, who is also Commander-in- Chief of the Armed Forces, has promoted 29 Tanzania People's Defence Forces (TPDF) officers to various ranks, including elevating one Major General to Lieutenant General.
According to a statement issued in Dar es Salaam yesterday by the Director of Presidential Communication, Mr Gerson Msigwa, the President promoted Major General Peter Paul Massao to Lieutenant General. Major General Masao currently heads the Tanzania Military Academy (TMA) in Monduli, Arusha Region.
Referring to the statement read by the Chief of Defence Forces (CDF), General Venance Mabeyo (pictured) at the State House yesterday, the promotion of Major General Masao to the rank of Lieutenant General brings the total number of officers with that rank to two.
The current TPDF Chief of Staff, Yakub Hassan Mohammed, also holds the rank of Lieutenant General following his promotion from the rank of Major General by President Magufuli in early February this year. According to the statement, the Commander in Chief of the Armed Forcesalso elevated Brigadier General Henry Kamunde to Major General.
The statement further stated that President Magufuli promoted 27 TPDF officers from the rank of Colonel to Brigadier General, including one officer from the rank of Lieutenant Colonel to Colonel. It was explained in the statement that President Magufuli promoted Lieutenant Colonel Bernard Masala Mlungato to Colonel to replace Aide de Camp (ADC), Colonel Mbaraka Naziad Mkeremy who has been promoted to Brigadier General.
This means that President Magufuli will now have a new ADC. Those who were promoted from the rank of Colonel to Brigadier General are D. D. MMullugu, J. J Mwaseba, A.S Mwamy, R.K Kapinda, C.D Katenga, Z.S Kiwenge, M.A Mgambo, A.M Alphonce, A.P Mutta, A.V Chakila, M.G Mhagama, V.M Kisiri, C.E Msolla and S.M Mzee. Others are C.J Ndiege, I.M Mhona, R.C Ng'umbi, S.J Mnkande, A.C Sibuti, M.M Mumanga, I.S Ismail, M.N Mkeremy, G.S Mhidze, M.A Machanga, S.B Gwaya, P.K Simuli and M.E Gaguti