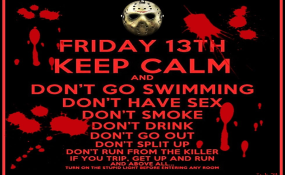 Photo: Supplied
Cape Town — The Western world considers Friday the 13th an unlucky day - and today is that fateful day. However, some countries like Kenya - do act on superstitions around the number 13.
The date itself though occurs when the 13th day of the month in the Gregorian calendar falls on a Friday, which happens at least once every year but can occur up to three times in the same year.
In 2017, it came around twice - on January 13 and October 13. This year, we face another one on July 13.
The history
But where does this superstition originate? It may have arisen in the Middle Ages, at the Last Supper with Jesus where 13 individuals were present the night before his death on Good Friday.
It is also possible that Thomas W. Lawson's popular novel Friday, the Thirteenth, in 1907 contributed to popularising and spreading the superstition. The storyline? An unscrupulous broker takes advantage of the superstition to create a Wall Street panic on a Friday the 13th.
Another origin story is that of Friday, 13 October 1307 - the date Philip IV of France arrested hundreds of the Knights Templar.
Back to the present day...
The hugely successful Friday the 13th franchise includes 12 horror movies, a television series, and several books that focus on curses and superstitions. The key character in the films, Jason Voorhees, is an icon in the horror movie genre - and his mask is one of the most known images in pop culture.
For the future...
On Friday, April the 13th, 2029, to be exact, the world will face an asteroid. Even though 99942 Apophis is unlikely to collide with the Earth or Moon, 14 years ago scientists were not sure.
There will also be two Friday the 13ths every year until 2020, but 2021 and 2022 has just one each, in August and May.
Brace yourselves!