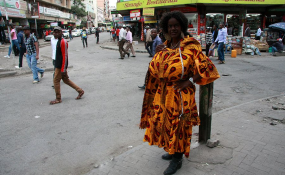 Photo: Martina Big/Facebook
Blog
By Melody Chironda
Cape Town — Martina Big born Martina Adam has taken the crown for most offensive blackface portrayal in modern history. Like really, what is she thinking? Martina Big is literally a white person in blackface.
Martina Big is known for allegedly possessing the largest breast implants in Europe. She gained media attention when she made headlines last year for wanting to become a black woman. Yes, you read right.
Big used melanin injections to literally turn her skin black. She went from a pale, blonde-haired flight attendant to a black woman with a kinky weave. Her newfound look has received a lot of attention and backlash from some rights groups who found it offensive.
Her makeover has been criticised by the Race Equality Foundation, who believe she has a "limited understanding" of the challenges ethnic minority groups face. Her story distracts from the problems black people are truly facing today.
After undergoing the medical procedure in the U.S, the former air hostess flew to Kenya for the next step in her controversial quest. If you think that this scenario couldn't get worse, Big was baptized under a new name - Malaika Kubway - a Swahili name for big angel. Cry my poor beloved continent!!! I feel sorry for our African loved ones who share Big's "new" name.
According to the Root, Martina wants to change her body even further by widening her nose and getting bum implants to make it look more "African". As a black African woman, I'm totally offended as this brings us pain to what our ancestors had to endure during slavery - just because of the colour of our skin. I guess we wouldn't be shocked when she tries to claim our land too.