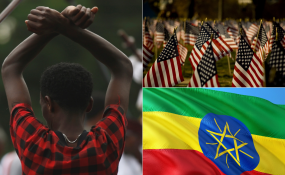 Photo: allafrica.com
By Misael Lemma
HR-128, a resolution passed by the American Congress on human right handling of Ethiopia on Wednesday, will not fracture the Ethio-US diplomatic ties, says the Ministry of Foreign Affairs.
Briefing journalists yesterday, Ministry Spokesperson Meles Alem said that the two countries have maintained a longstanding strong relationship. And the HR-128 will not have any impact on Ethio-US ties. Meles "HR-128 is what the Congressmen passed just using their freedom of speech without any enforcement mechanism. We welcome constructive suggestion our friends have for us. But what the Ethiopian government demands is to respect the sovereignty of the country."
As per the Spokesperson, the Congressmen adoption of HR-128 does not stand for the United States of American government.
USA is the collection of several big institutions like that of State Department, the Executive Branch, Senate etc.. its international relations is conducted through State Department. This institution through its Head-Secretary of State- recognized reforms we are trying to introduce.
According to the Spokesperson, Ethiopian government has never expressed the existence of a fully matured democracy where rights are perfectly respected and good governance has prevailed everywhere in the country. "from its alien status, democracy has now become something every body is striving for.
Conditions in the last three years show that Ethiopians are desirous matured democracy and good governance. Ethiopian government understands the question of the people much better than the Congressmen do," He adds.