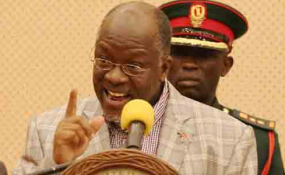 Photo: File photo/The Citizen
By Syriacus Buguzi
Dodoma — Since November last year, at least 434 civil servants have faced disciplinary action for occasioning losses to municipal authorities, abuse of public funds and failure to discharge duties, it was revealed on Thursday April 12 in Dodoma.
The Minister of State in the President's Office-Regional Administration and Local Government, Mr Seleman Jafo, made the revelations just a day after the Controller and Auditor General (CAG) exposed rot in local government expenditures and failure of the authorities to submit financial receipts for auditing.
On Wednesday, the CAG report showed that in 21 local government authorities, a total of 379 revenue collection receipt books were not submitted, despite directives by the auditors to do so.
The report further said local government authorities made purchases worth Sh.1.19 billion without observing the right channels for public procurement.
According to the report, there were weaknesses in overseeing natural resources; and weak control of payment of salaries, whereby civil servants' arrears worth Sh9.86 billion went unpaid in 19 local government authorities by June 2017.
The CAG said there were also delays in the implementation of three development projects worth Sh 1.65 billion in Biharamulo, Karagwe and Mpwapwa districts.
Yesterday, Minister Jafo defended the government on the concerns raised by the CAG, saying that in November 2017, the PO-LARG made a follow up after recommendations by CAG and put 434 civil servants to task.
He said 210 of the servants have been issued with warning letters whereas 9 were sacked.
He said 15 of them have been reported through government's legal channels and 28 were suspended from office.
But also, 13 of them were forced to pay from their salaries to compensate for the losses they caused to the government and 4 of them were demoted, and 10 of them were transferred to other responsibilities.
Finally, he said, 64 of the civil servants are in the process of facing further disciplinary measures that may include sacking.