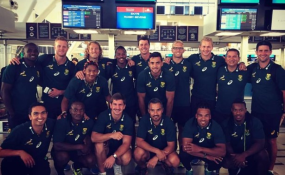 Photo: Philip Snyman
The Blitzboks have yet to be tested at the Commonwealth Games after thrashing Papua New Guinea 52-0 in their second group match on Australia's Gold Coast on Saturday.
The result leaves South Africa two from two for the tournament after they cruised to a 43-0 win over Malaysia earlier in the day.
South Africa took a 33-0 lead into half time, and by the time they were done they had scored a total of 8 tries.
The Blitzboks face one more big test in their pool when they face Scotland, who have also won both of their matches, at 14:17 (SA time) on Saturday.
The winner of that match will progress through to the semi-finals and the loser will be out of medal contention.
Scorers:
SA 52 (33)
Tries: Werner Kok, Rosko Specman (2), Ruhan Nel (2), Dylan Sage, Branco du Preez, Zain Davids
Conversions: Du Preez (6)
Papua New Guinea 0 (0)
Sport24