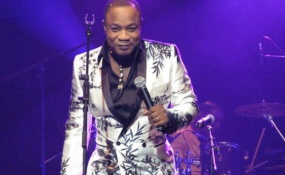 Photo: Koffi Olomide/Facebook
By Hilary Kimuyu
Congolese Lingala maestro Koffi Olomide is an 'unwanted' guest in the eyes of some Kenyans who are of the view that he shouldn't be allowed back in the country.
The musician, who was deported from Kenya two years ago after kicking one of his dancers at the Jomo Kenyatta International Airport in Nairobi, is set to perform at the Devolution Conference in Kakamega county between April 24 and 26.
Koffi has been invited into the country by Kakamega Governor Wycliffe Oparanya.
In a video recording shared online on Friday, Olomide confirmed his performance thanking the Kakamega Governor for inviting him to perform at the conference.
That notwithstanding, some Kenyans have expressed their resentment to the musician's imminent return to the country citing the ugly and embarrassing incident at the JKIA.
Others questioned what value the musician would add to the common man and the conference itself.
Koffi Olomide was deported from Kenya after physically assaulting one of his female dancers at JKIA. Shame that Governor @GovWOparanya has invited him for the #DevolutionConference in Kakamega. Retweet if you don't want Koffi Olomide in Kenya. pic.twitter.com/N88tbqh0pM
-- Ahmed Mohamed (@Asmali77) April 13, 2018
We, the people, will arrest him and have him jailed
-- Boaz WARUKU (@BoazWaruku) April 14, 2018
Kofi olomide should not step in Kenya! He has no respect for women ! Not even our country!
-- Mosima (@Mosima38605576) April 14, 2018
I don't have a problem with him coming to Kenya again,my problem is with understanding how him performing at such functions are beneficial to common man like me! How is it even contributing to the theme of the conference, and from whose accounts are such bills footed on?
-- Clifford Cliff (@Clifforcliff) April 13, 2018
He is a dyed in the wool male chauvinist. Kicking vulnerable female dancer to show his might is cowardly.
-- Douglas kin_________ (@dmbanjo) April 13, 2018
But not all were as unforgiving, saying the Congolese crooner should be given a second chance since he apologized for his mistake.
People don't keep hatred all their life . Let's end the old story and allow him to correct the past mistake
-- Bari (@abdiaziz_a) April 13, 2018
Koffi made a mistake and he apologised. Being one of his fans, I accepted his apology and I see no problem in this cultural exchange program. Karibu Kenya, Kofi, tuko wengi sana. Twanga Foto!
-- Tomdo Wuod Abedi (@WuodAbedi) April 13, 2018
So we are supposed to hold this one act over his head for life even after he apologised profusely? You obviously have no idea who Koffi is or the crowd that he can pull. Welcome to Kenya Le Grand Mopao!
-- Atieno Okeyo (@Atis_Okeyo) April 13, 2018
The guy apologised to the whole Nation for his act,we welcome him back.
-- Meshack Ojiambo (@OjiamboMeshack) April 13, 2018
There is no place for double punishment. He committed a crime, he was punished. Let him be.
-- A Emmanuel Omurunga (@EAOmurunga) April 14, 2018