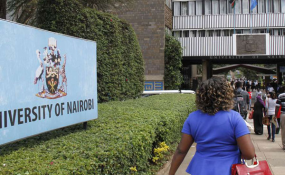 Photo: Daily Nation
By Stella Cherono
Police on Sunday afternoon battled University of Nairobi students who were protesting the swearing-in of student leader Manyara Muchui.
Students demonstrated in the campus, burning tyres, destroying school facilities and stoning cars along Waiyaki Way, before police officers were deployed to disperse them.
The students claimed that the school administration led by Vice Chancellor Peter Mbithi had imposed University of Nairobi Students Association (UNSA) leaders on them.
"We elected delegates on Friday, April 13, and the election for the position of the chairman was to be held on Thursday, April 19, but we woke up [Sunday] shocked to learn of the early morning swearing-in of Anthony Manyara as the chairman of UNSA," one of the aspirants for the chairmanship, Job Omondi Otieno (Jahome) said.
Ms Rebecca Kemunto was also sworn in as the Vice chairperson.
LOCKED OUT
Mr Otieno said the university management had been unfair to the other candidates, reiterating that the students would not settle for leaders they had not elected.
Mr Otieno was one of the four aspirants who were locked out of the race by the administration over disciplinary and academic issues.
The other aspirants included Jamal, Felix Apiyo, Abdi Birkan and Daphine Githuku.
Mr Manyara said he was duly sworn-in as there was no other candidate in the race for chairmanship, but other students said there were five candidates for the position, questioning why the management rushed to swear him in early Sunday morning yet the elections were still pending.
"This is a sham, they swore him in secretly because they knew that the students would protest. UNSA is a sham. We want SONU back," Mr Otieno said.
The University of Nairobi Students Association, UNSA (formerly SONU) constitution stipulates that the chairman should be elected by the delegates chosen by the students.
The swearing in of Mr Manyara was met with mixed reactions from the students on their Facebook page, New Comrades Forum.