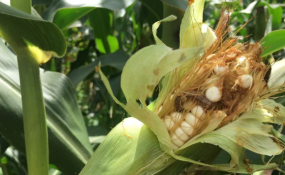 Photo: S. Mhofu/VOA
opinion
By Saumu Jumanne
There is some bad news from Kenya that is shocking because if control measures don't work, it will plunge East Africa into unprecedented food crisis. It is about fall armyworm invasion on maize crops, which is reported that it can destroy half of the maize crop in Kenya.
The damn pests last year are said to have destroyed over 300,000 hectares of food crop in Southern Africa. That was, before they found their way to maize farms in Kenya. Maize is the stable food for Tanzania and almost all EAC and SADC states.
According to the story in the Daily Nation, British government's Department for International Development research in 12 African countries (including Tanzania), indicated last year that the total potential losses brought about by armyworms could rise to $2.5 billion.
The big question is, how is Tanzania prepared to fight this menace? Often what affects food crops (pests and diseases) in one East African nation sometimes it may spreads over other neighbouring countries.
Last month, Nzega District Commissioner Godfrey Ngapula speaking at an awareness meeting about the fall armyworms was candid that science and technology, was vital for "addressing various problems facing the sector." To me this is a good sign that something at the grassroot is being done.
In Kenya, farmers have turned into use of detergents in the fight against armyworms, after modern pesticides have failed to work. One of the desperate farmers in Kericho claimed to have used 4 different pesticides that did not work, only the washing powder is working. This proves how dangerous the pest is, even as scientist battle to find a lasting solution, hopefully soon.
God forbid, if half of the maize crops are destroyed by those armyworms in EAC and SADC, it would be unprecedented food crisis and economic meltdown. This food for thought should have our scientists, and /or researchers go the extra miles to find an urgent solution to that problem. At least for the case of Zanzibar, crops like cassava and rice rules the day, and not maize.
The smallholder farmers in Tanzania mostly have been struggling for survival and there have been many efforts to have them increase crop production. If we manage to increase production, this can play a big role in manufacturing sector and improve inclusive economic growth prospects.
Tanzania like any other East African country, faces a number of challenges in agricultural sector in general and crop production in particular. So the outbreak of fall armyworms in our neighbouring Kenya poses more danger. And as we are aiming at transforming the sector from subsistence to commercial type of farming, innovative techniques, strategies and technologies are a must so as to increase crop productivity and transform the sector into commercial industry.
I support Ngapula that we must use science and technology to seek solution of what ails our agriculture. We need high productivity for all the crops that we produce. We have to be innovative. With our huge geographical advantages as a nation, we can make all our staple crops -maize, sorghum, millet, rice, wheat, beans, cassava, potatoes, bananas, etc to rule Africa. We can be at the top. The same can be done for our traditional export crops.
such as coffee, cotton, cashew nuts, tobacco, sisal, pyrethrum, tea, cloves, among others.
Finding solution to what ails our agricultural systems and solving those problems, would solve most of our development and economic troubles... for individual millions of farmers, and for posterity of our nation as a whole.
The author is an Assistant Lecturer, Dar es Salaam University College of Education (DUCE).