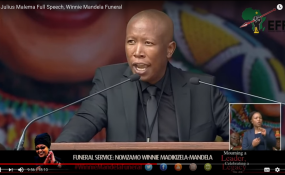 Photo: EFF Screenshot
By Evelyne Musambi
Kenyans online are curious to see who will emulate South Africa's Julius Malema and tell off fake mourners at Kenneth Matiba's funeral.
Kenyans called out sympathisers of the Kanu administration for sending condolence messages after the death of the multi-party champion.
Some even recommended NRM self-declared general Miguna Miguna to take up the Malema role, saying he was best suited to tell off the fake mourners.
Malema had at the burial of anti-apartheid icon Winnie Mandela called out the people who distanced themselves from Mrs Mandela during her tribulations, accusing them of crying crocodile tears at her funeral.
His poetic speech repeatedly asking Mama to give him a sign on how to treat her oppressors went viral.
Now Kenyans are hunting for a local Malema to tell off those who oppressed Matiba as he fought for multi-party democracy.
At Winnie Mandela's funeral, Julius Malema said 'they are here mama'..
At #KennethMatiba 's funeral, I am waiting for the hero who will say 'Wako Hapa kwa mazishi yako. Wanajifanya ndio wanalia zaidi. Wako Hapa Matiba, Wako Hapa. They are here. We can see them. Give us a sign.
- SAM WA ESTHER NA MOSES 🇰🇪 (@SamGakunyi) April 15, 2018
Julius Malema speech will be relevant for Matiba's funeral
- Cyprian, Is Nyakundi (@C_NyaKundiH) April 15, 2018
Am waiting for former President Moi's condolences message to the Kenneth Matiba 's family. 😀
Then I will revisit Julius malema's speech. #ThoseCryingTheLoudest Mama. #JuliusMalemaChallenge
- Winjoy Marangu (@winjoy_marangu) April 15, 2018
So much hypocrisy on the Death of Matiba. I think we need our Julius Malema to deconstruct them on the spot. And only Dr. @migunamiguna can currently carry the mantle with honour. #RIPKennethMatiba
- Dr.SBJ-Kabonyi,OGW (@samba_juma) April 15, 2018
Julius Malema's speech should be played back at Matiba's funeral. Just Replace Mama with Papa. #RIPMatiba
- Honiaz 🇰🇪 (@Honiaz) April 16, 2018
Someone brave enough should do a Julius Malema speech during Matiba's funeral.
- Albie (@MisterAlbie) April 16, 2018
Can we have a 'Julius Malema' at Matiba's funeral and all other funerals... . say no to fake mourners.
- ★Dree★ (@soAUDREYY) April 16, 2018
Nobody in the current crop of leadership can pull a perfect match of Julius Malema during send off of Kenneth Matiba other than @MigunaMiguna. The despots, lords of impunity must be blatantly told off. #JuliusMalemaChallenge #RIPMATIBA
- RETIRED COMRADE (@retired_comrade) April 15, 2018
Its high time we have another Julius Malema show at Matiba's funeral. It will be of great interest for kenyans to knw the hyprocrites especially those who facilated his torture and detention without trial.But who will be ready to standout and speak courage like Malema?#RIPMatiba
- Erick Makau (@MakauKyanzi) April 15, 2018
Now that @Julius_S_Malema has set the pace, we are waiting to see hypocrite shading crocodile tears at Kenneth Matiba's funeral.
They tortured him when he was alive and now they will mourn the loudest in his funeral. Rip Matiba
- Victoria Odipo (@vickyodipo) April 15, 2018
In the words of Julius Malema, Baba (Kenneth Matiba) even those who fought you, those who tried to kill you, those who caused you this pain are sending their messages of good will.
We can see their crocodile tears Baba, they are waiting to ware suits on your funeral.
- Musamali ❄ (@austinmusamali) April 15, 2018
When former KANU luminaries in their bespoke suits come to eulogize Matiba, how shall we treat them? We need a signal! Wish we had a Malema from amongst us. Or Kaggia was 37!
- Bildad Kaggia. (@kenyanpeasant) April 15, 2018