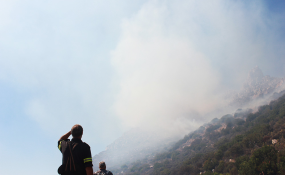 Photo: Ra'eesa Pather/Daily Vox
An inaccessible fire on the upper slopes of Table Mountain near Kirstenbosch, has forced firefighters to abandon their fire trucks and hike up the mountain instead.
City of Cape Town Fire and Rescue spokesperson Theo Layne said that the large vegetation fire, which was reported on Monday afternoon, had not yet been contained.
"Because of the inaccessibility of the fire and the wind conditions, we are not able to determine how long it will take to contain it," Layne said.
"Forty-five firefighters, with the assistance of Table Mountain National Parks officials, and a helicopter have been deployed."
Source: News24