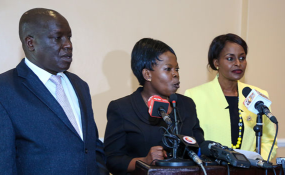 Photo: Capital FM
By Sylvania Ambani
Anger and despair were some of the emotions expressed by Kenyans on Twitter Monday morning following the resignation of three IEBC commissioners after a fallout with chairman Wafula Chebukati.
The three commissioners who announced their resignation are vice chair Connie Nkatha Maina, commissioners Margaret Mwachanya and Dr Paul Kurgat.
The commission's woes begun during the 2017 General Elections over various anomalies during the election process.
In October 2017, Dr Roselyn Akombe became the first commissioner to throw in the towel citing political interference on IEBC's mandate.
The troubles did not end there, Mr Chebukati and the commissions CEO Ezra Chiloba were also not seeing eye to eye, as the former kept pointing an accusing finger at Chiloba.
The unfolding drama at the IEBC has elicited mixed reactions from the online community. This is what they have to say.
Chebukati would have saved himself if he had resigned long time ago as he had rightly pointed out he does not have the support of the majority in decision making at IEBC. Unfortunately he will be kicked out as a MBURUKENGE
Watch this space... .#RIPMatiba#JuliusMalemaChallenge pic.twitter.com/MVGbZZuDOp
- Evans Martial (@evamovic) April 16, 2018
Who wrote these IEBC resignation speeches ati... 'I resign with immediately effect ' yaani we don't even try
- Angie Ngugi. (@Only_Nyambura) April 16, 2018
The resignation is enough proof that the iebc has had fissures and divisions from the word go because of the inept leadership of chebukat
- Josephat Omworo (@OmworoJosephat) April 16, 2018
Today Roselyn Akombe has been vindicated and her honour restored. May the IEBC cartel rot in Kamiti. Wasiwachwe!
- Ben Mwalimu (@BenMwalimu1) April 16, 2018
Why are the IEBC officials fighting yet we don't have elections anytime soon? Musando's spirit must be overworking
- FINCH (@labokaigi) April 16, 2018
At one point, my grandma told me that whatever you do in darkness, will soon be put in the light for everyone to see IEBC #iebc pic.twitter.com/p9m8kd4z2y
- Bonface mecha (@Bonfacemecha) April 16, 2018
What's happening to #iebc? There is someone who must be behind all this
- finest.ke 🇰🇪 (@claudiowangu) April 16, 2018
Honestly, Kenya needs a fresh poll before this year ends. IEBC failed miserably. Back to the ballot!
- Events Avenue (@EventsAvenueKe) April 16, 2018
IEBC fallout as Chiloba is suspended over 'procurement'
From 'Chilobae' to 'Chilobye', why IEBC boss is Kenya's most 'unwanted' man