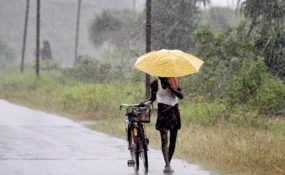 Photo: The New Times
By Jean d'Amour Mbonyinshuti
At least 46 people have died and 127 others injured during heavy rains in the last six weeks, according to figures from the Ministry of Disaster Management and Refugee Affairs (MIDIMAR).
A total of 64 houses were destroyed while 2,955 others were damaged during the same period, while 121 hectares of farmland were washed away.
The torrential rains have also so destroyed 16 bridges countrywide, and led to the death of 685 various livestock.
Disasters, associated with the heavy rains, include lightning, rainstorm, floods as well as landslides.
Nyaruguru District was the most affected with 19 people killed during the reporting period while 90 were injured.
Other heavily hit districts include Ngoma, where five people were killed; Rulindo and Gicumbi, where four and three people were killed, respectively.
Among disasters, lightning claimed the most lives (27) and injured 101 people, followed by rainstorms, which led to the death of 11 people.
Speaking to The New Times, the Nyaruguru District Mayor, François Habitegeko, said that following lightning incidents that claimed 19 human lives there, the district has embarked on campaigns to mitigate the effect of not only lightning but also other disasters.
Among the victims are 16 people who were struck at once while worshiping at a church.
"We have taken measures to mitigate the impact of lightning, we held some meetings with residents and encouraged them to exercise caution during heavy rains such as avoiding seeking shelter under trees, not to carry metallic objects during rain and avoiding moving in the rain," he said.
He added that the district has also embarked on campaigns to install lightning rods on public buildings and that they would soon conduct an assessment to see how many are yet to comply.
"We are also trying to encourage those who live in high-risk zones to relocate as we move to support those who are needy to avoid risking their lives," he said.
Figures from MIDIMAR reveal that 51 people have died as a result of disasters between January and the first two weeks of April this year, which is almost the total number of victims (52) for the whole of last year.
Information from Rwanda Housing Authority indicate that, as of last year, about 7,000 households needed to relocate from high-risk zones but that the Government considered relocating over 3,900 households who are vulnerable.
Minister speaks out
According to the Minister for Disasater Management and Refugee Affairs, Jeanne d'Arc Debonheur, citizens are encouraged to take preliminary measures to cushion themselves against disasters associated with heavy rain.
"People should, for instance, ensure that the roofs on their buildings are strong enough to hold off the storms and also move to contain rainwater because this does not only destroy houses but also washes away farmland," she said.
Forecasters at Rwanda Meteorology Agency recently predicted that, from February to the first week of June, some parts of the country will experience average rain while others will see normal or below-average rain.
Officials attributed the change in rain patterns to La Niña period, which is a cooling of the water in the equatorial pacific that occurs at irregular intervals. It is associated to widespread changes in weather patterns complementary to those of El Niño.