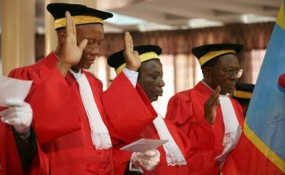 Photo: Radio Okapi
By Michael Tantoh
The judiciary is not for money-making but to uphold the law. This is the the vision of President Joseph Kabila, according to Justice Minister Alexis Thambwe Mwamba.
In a series of orders published on April 16, more than 200 magistrates, accused of corruption or incompetence, were dismissed by Kabila. This represents more than 6% of the country's of magistrates. Some entered their positions without the necessary qualifications. The officials, with law degrees, had not passed the entrance examination for doing the work of magistrates.
"We realize that all the problems we are experiencing in the judiciary come from people who were either poorly trained or wrongly admitted into the judiciary," Mwanba told RFI.
The minister said that he is preparing laws that will reform the judiciary and provide stricter conditions of entry into the school of magistracy. Congolese justices have long been accused of corruption, both by litigants and national and international NGOs.
Skeptics however are doubting the message the president is trying to send out, especially because Kabila is coming to the end of his mandate. Some wonder if this only meant to seduce the public or a real desire to re-professionalize justice.