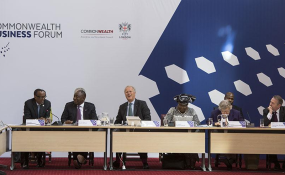 Photo: New Times
By Collins Mwai
President Paul Kagame has said that even with the recent signing of the African Continental Free Trade Area (AfCFTA), African leaders must work to improve the business environment for citizens to fully benefit from the trade deal.
Kagame was yesterday speaking in the United Kingdom at the Commonwealth Business Forum organised on the sidelines of the Commonwealth Heads of Government Meeting.
Yesterday's business forum convened government and business leaders to deliberate on whether Africa's growth story is still alive and well, with a special focus on intra-African trade and attracting investment into Africa.
In a panel session that also featured South Africa's President Cyril Ramaphosa and Kenya's Uhuru Kenyatta, Kagame said that leaders have to continuously improve their business environment to reap the full benefits of opening up the continent.
"African Continental Free Trade Area was adopted last month by African leaders. Trade and investment are set to grow across the continent, creating opportunities for manufacturing and value addition.
"We as leaders still have to make sure that the business environment keeps improving, so that citizens can fully benefit from trade and free movement," he said.
The agreement could go into force by the end of this year following the signing of the deal by 44 AU member states in March at an extraordinary African Union Summit held in Kigali.
More countries are set to sign the agreement during the next African Union Summit slated for July in Mauritania.
Kagame said that what has been done so far was a good start but noted that more still had to be done in involving the private sector and other stakeholders.
"There is good progress and a good start. But there's a lot to do ahead of us, and I'm sure that Africa's leaders and CEOs are up to the task. We want to do what's best for our continent and our people," he said.
Earlier in the day, Kagame had participated in a high-level roundtable discussion under the theme; 'State Fragility, Growth and Development'.
The session brought together heads of government and top business leaders from across the Commonwealth and was chaired by former United Kingdom Prime Minister David Cameron who heads the Commission of State Fragility, Growth and Development.
The session's focus was on encouraging and promoting inclusive economic growth in a fragile and conflict situation as a key priority for global security and international development.
Speaking at the session, Kagame said that fragility wasn't limited to poor and small states.
"Fragility, as we have discovered, can affect both small and big states, poor countries as well as rich ones, including multiparty systems. This affects growth and human development," he said.
However, he said that by Rwanda's experience, it ought not to be a permanent state and can be resolved.
Highlighting Rwanda's approach to addressing fragility, the Head of State said that it largely involves the quality of politics, policies and citizen involvement.
"The difference between resilience and fragility is the quality of politics. Are we mindful of the need for accountability and to benefit all citizens without exclusion?
"Do you keep putting money into a country without knowing how it is being put to use? In Rwanda we put a framework in place where both sides could measure the results. We involved our citizens as we went along," Kagame said.
Later in the day, President Kagame met and held bilateral talks with Canadian Prime Minister Justin Trudeau.
On Tuesday, President Kagame had met with President Nana Akufo-Addo of Ghana, Boris Johnson, the British Secretary of State for Foreign and Commonwealth Affairs, and Prince Harry.
The Commonwealth is a community of 53 nations and more than 80 organisations that work together to promote prosperity, democracy and peace within partner states.
The Commonwealth Heads of Government Meeting officially opens today.