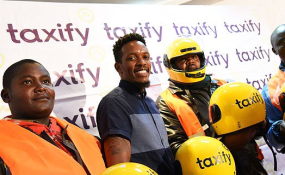 Photo: Diana Ngila/Nairobi News
By Hilary Kimuyu
Ride-sharing firm Taxify has announced the reduction of their newly introduced motorbike hailing service by up to 50 per cent.
The firm has also launched its TaxifyGO and Taxify XL features for Nairobi users.
TaxifyGO is Taxify's economy category with pocket-friendly fares, while TaxifyXL is tailor-made for larger groups with a sitting capacity of 6 passengers.
TaxifyGO fleet will consist of smaller 4-seater cars with 1300cc engines.
In a notice to its customers, Taxify said the adjustments are meant to provide customers with "a reliable and affordable way to move around the city."
"We are pleased to announce a 50% discount on our Taxify boda prices from Tuesday April 17," read the email.
Boda boda customers will now pay a base fare of Sh20, with Sh12 per a kilometer, Sh1 every minute and a minimum fare of Sh50.
Chisom Anoke, Taxify's head of operations in Kenya, explained that the decision to add cars that carry more passengers is a response to market trends.
"We have recognized that as our customer base expands, and they grow accustomed to using the ride-sharing service, people are now moving to a point where they want vehicles that can carry more than four passengers at a go," said Anoke in a statement.
TaxifyXL option starts off at a base fare of Sh100, with each kilometer attracting Sh40.00, Sh4.00 per minute and a minimum fare of Sh250.00.
TaxifyGO on the other hand, will be priced at a Base Fare of Sh75.00 with each kilometer attracting Sh22.00, Sh3.00 per minute with Min Fare of S100.00.
"These fares have been carefully set to strike a delicate balance between meeting the affordability needs of the customers and making business sense for Taxify drivers," Anoke explained.