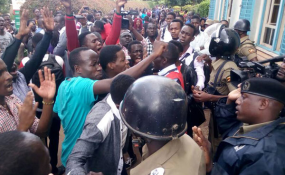 Photo: Daily Monitor
By Derrick Wandera
Makerere university students have again gone on strike following a disagreement between their leaders and the university management.
During a closed door meeting in the main building, student leaders gave Makerere University vice chancellor, Prof Barnabas Nawangwe one hour ultimatum to find lasting solutions to their problems from the university council.
This was after the seven-hour heated meeting was dragging on further.
The guild president, Mr Papa Were said they wanted everything resolved today.
"Since the VC is saying that the council has the final decisions on our grievances, let him seek them and give them to us in one hour," he said.
The students have been rioting since Monday this week in protest against a number of university policies which include scrapping of meals at halls of residence, tuition increment, abolition of evening classes and end of semester exams.
Others are poor internet connection, missing marks and delayed release of results, failure by management to account and update the stakeholders on MakRun, among others.