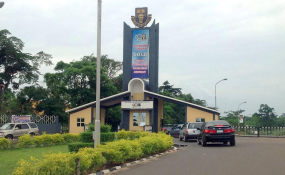 Photo: Premium Times
By Adejumo Kabir
The panel set up by the management of Obafemi Awolowo University (OAU) last week Wednesday to look into the sex-for-mark scandal involving a lecturer of the department of Accounting, Richard Akindele, and a female student of the university, has submitted its interim report to the school.
However, the details of the report are not yet known.
Speaking with PREMIUM TIMES on Thursday, the spokesperson of the university, Abiodun Olanrewaju, said the vice-chancellor and the team will look into the report and come up with an official pronouncement.
"The vice-chancellor and the team will look into it (the report). We will make (an) official pronouncement either on Thursday (today) or Friday. Bear with us."
The Punch newspaper quoting a source on the panel said it recommended the indefinite suspension of Mr Akindele.
Mr Olanrewaju did not confirm that.
PREMIUM TIMES gathered that only the embattled lecturer honoured the invitation of the panel while the lady neither showed up before the panel to defend her case nor wrote a formal complaint to the institution to defend the leaked audio.
However, Mr Akindele continues to lecture students at the university.
A student of the institution who identified himself as Segun, told PREMIUM TIMES that Mr Akindele taught the MBA 645 (Human Resource Management) class between 10 and 11 a.m. last Saturday.
A source in Mr. Akindele's Church, who spoke under the condition of anonymity, told our correspondent on telephone that he has not been seen in the Church since the incident occurred.
"We have not seen him in church since the incident occurred. However, the family is doing great."
Mr. Akindele was recently caught on tape demanding sex from a female student to upgrade her scores.