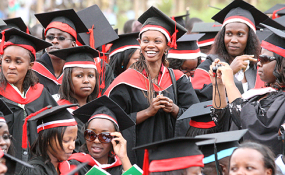 Photo: Jared Nyataya
editorial
For about three years, there had been unrest in some part of the country. On several occasions, some youths who were misled by anti-peace elements used to block roads ,cause great damages on private and public property ,disrupt the development and the progress in the country as a whole.
No matter how furious the youths are, presenting one's legitimate demand in a peaceful manner is the only way to avoid violence and destruction.
In fact, the government has understood economic and social problems that are currently affecting the youth. That is why the newly elected Prime Minister Dr. Abiy Ahmed promised to bring profound changes in the lives of youth by ensuring quality education, fighting against corruption and maladministration.
It is true that a large number of youths are wondering around without jobs in the streets of Addis Ababa and other cities and towns of Ethiopia . Moreover, some of them are accustomed to various bad habits.
Obviously, those educated youths who are not employed are at high risks of various forms of social and economic hardships. They as well easily expose themselves to different addictions . Furthermore, they are more likely getting involved in self destructive behaviors than the ordinary people.
Until now, in a bid to offer a life changing education to the youths, the government of Ethiopia in collaboration with its development partners has built over thirty universities across the nation.
Indeed, having graduating from those universities, some of the youths have become productive citizens and role models for their peers in many respects. Sadly, others have been forced to be public dependent because of the high unemployment rate in the country and various unmentioned reasons.
Besides, making available a wide range of education opportunities for the youths,the government and other concerned bodies need to engage in constant awareness creation campaigns than ever before. It is true that the government and the general public have a big role in making the lives of youths better as ever But, no matter what kind of supports are being provided to them, the youths are the one who eventually decide on their future.
Taking into consideration the nation's set goal of becoming one of the middle income countries in the world by 2025, youth employment needs to receive proper attention like poverty reduction.
For example,the poverty reduction has been given top priority for over two decades , as a result, millions of fellow country men have been lifted out of abject poverty and a number of achievements have been also registered in terms of promoting and ensuring quality standard of living in the country.
As the saying goes ' family is a foundation of a given nation', if there are many more strong and well respected families, undoubtedly, the future of that nation is rosy. Henceforth, every family has to fulfill its responsibility in nurturing the youth with one of the noble values of humans that is earning money through working hard.
In general, offering vast employment opportunities to the youths is crucial to sustain the fast economic growth of the nation and the ongoing development drive. So long as there are huge number of public dependent youth, development and economic growth as well as peace and tranquility of a given country is unthinkable.
Therefore, the government and general public have to extend unreserved supports to the youth . Also the youths have to exhaustively make use the available opportunities that lead them to be productive citizens. One must not forget that the youths are the motor that run Ethiopia.