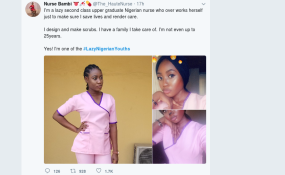 Photo: Nurse Bambi/Twitter
Nigerians-from political parties, politicians, entertainers and regular citizens have weighed in on the statement made by President Buhari where he said that many Nigerian youths have not been to school yet they want free education, health and housing.
The hashtag #LazyNigerianYouths has now gone viral on social media as Nigerians, most especially youths, have decided to show Mr President and the world that Nigerians youths are industrious, hardworking and not idle as portrayed.
See some reactions below...
[View the story "#LazyNigerianYouths" on Storify]