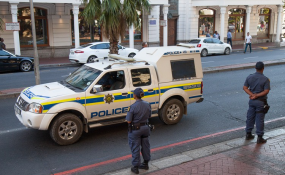 Photo: Ashraf Hendricks/GroundUp
A group of men who tried to hijack a couple on the East Rand in Gauteng had the tables turned on them this week when the owner of the nearly hijacked vehicle smashed into their getaway vehicle.
Police spokesperson Captain Mavela Masondo said the couple was about to leave their driveway in Van Dyk Park, Boksburg, on Thursday night, when they were accosted by armed men and forced out of their vehicle.
"The suspects could not reverse the car and ran back to their getaway car. The male victim jumped back into the car and reversed into the suspects' car," he said.
CCTV footage of the attempted hijacking was widely shared on social media.
The footage shows the suspects leaving the house and heading towards a white getaway car parked on the other side of the road.
Out of the blue, the almost hijacked car reverses at speed down the driveway and smashes into their vehicle, pushing them into a grassy patch next to the road.
One of the criminals appears to be bowled over but quickly finds his feet.
The car owner disappears out of sight and rams into the getaway car a few seconds later for a second round.
Masondo says the two suspects were apprehended by the community and handed to the police.
An unlicensed firearm was also recovered.
Officers were investigating if the getaway car had been stolen and if the suspects were linked to other crimes.
They would appear in the Boksburg Magistrate's Court soon on charges of attempted hijacking and possession of unlicensed firearm and ammunition.
Other charges could still be added, Masondo said.
Source: News24