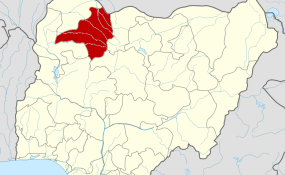 Photo: Premium Times
By Shehu Umar
Gusau — Lives lost to attacks by armed bandits in Zamfara State have hit over 130 after latest attack on Friday, checks by Daily Trust on Sunday show.
In February this year, suspected armed bandits attacked Birane village in Zurmi Local Government Area of Zamfara, killing at least 41 people. The attack was the first of its kind in the state this year. Some weeks later, the bandits killed at least 62 in Bawar Daji, Kuru-Kuru and Jarkuka villages, all in Anka Local Government Area.
So far, Anka Local Government Area has the largest number of casualties. And many residents said there was no end in sight to the menace of armed banditry in the state, especially cattle rustling.
Two weeks ago, troops deployed for Operation Sharar Daji said they had killed 21 armed bandits at Tungar Daji village in Anka Local Government, but they lost two of their officers in the gun battle.
Earlier, Governor Abdulaziz Yari Abubakar had ordered security operatives to shoot at sight, anyone found bearing illegal firearms in the state.
Also, on Thursday night, suspected armed bandits killed at least 27 people during attacks on Kabaro and Danmani villages in Maru Local Government Area.
The attack on Kabaro, a village located 24 km west of Dansadau town, came six years after at least 18 people were shot dead by cattle rustlers in the same community.
Dansadau district is one of the areas hit hard by armed bandits. The notorious cattle rustling kingpin, Buharin Daji, was killed in a forest near Dansadau town.
A resident, Sani Halilu, told Daily Trust on Sunday that the gunmen had earlier intercepted two men on a motorbike on their way to the village from Dansadau town and shot them dead.
Angered by the development, residents of the community mobilised and caught one of the bandits and executed him publicly. As a result of this, the gunmen men got angry and returned, laid siege on the community and started firing at residents after they had blocked all escape routes. They killed 20 people in Kabaro village alone.
"Some of the residents have fled to the neighbouring Kebbi State because it is closer. I believe a lot of them must have been wounded," Halilu said.
Another resident told our correspondent that when the bandits laid siege, residents attempted to resist the assault by fighting back with dane guns, but the bandits overpowered them because of their superior firepower. The residents had to retreat.
Recounting their ordeal, Hamisu Isa, another resident said, "Some days back, troops deployed from neighbouring Kebbi State carried out an operation on communities believed to habour the attackers. During the raid, the troops arrested about five suspected cattle rustlers and recovered a gun.
"The gunmen decided to attack the communities, alleging that some residents of the villages had tipped soldiers on their possible location."
Another resident who escaped the attack and is taking refuge in Bena town in neighbouring Kebbi State said, "The armed bandits intercepted two residents and killed them in a forest. They shot one dead and broke the neck of another before making away with his motorbike.
"A day after, they arrived at the village on motorbikes in large numbers and started firing at us. We fought back for a short time but we were overpowered and had to run for our dear lives.
"They started torching our residential houses. I had to maneuver myself out of the village through an exit they could not detect. They later proceeded to Dammani village, which is just 3 km from Kabaro.
"Even before they arrived there, the residents in Dammani had already fled when they sensed trouble. I think that was why a heavy casualty was not inflicted on the community."
He said two of his younger brothers were killed in a similar raid on the community six years ago. "I thought I would not survive Thursday's attack because of the way we were placed under a heavy gunfire by the assailants," he added.
The spokesman of the state police command, DSP Muhammad Shehu said discreet investigation into the remote and immediate causes of the attacks had commenced. He, however, warned the public against taking laws into their hands.
"Our men are there assessing the situation and providing adequate security to the affected communities. Perpetrators of the heinous act would be brought to justice," he said.