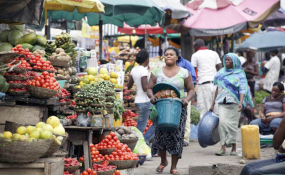 Photo: This Day
By Franklin Draku
The 2018 Mo Ibrahim report says African countries are still far from meeting the expectations of their citizens.
The report titled "2018 Ibrahim Forum Report: Public Service in Africa," assesses the current state of African public services and their key challenges, both from the job attractiveness side and delivery.
According to the report, on average African public services delivery display a continent-wide lack of capacity.
It says many indices point to a low and decreasing level of open government practices on the continent.
It says filling the void left by public services, private security, private education, and private health are rising exponentially, with the risk of widening inequalities on the continent.
Accountability
The report says over the past decade, the African average for the accountability of public officials has deteriorated, with the pace of decline worsening over the last five years.
It says 22 per cent of Africa's population who had contact with a public service in 2015 said they paid a bribe, mostly to the police and the courts.
In Nigeria, roughly 82.3 million bribes were paid in 2016, equivalent to 39 per cent of the combined federal and state education budgets.
On civil service employment, the report says on average, public employees are better educated, older, and include more women compared to the private sector.
"Public employees in Africa are on average better educated than in the private sector and are also twice older on average than the population they serve. Job motivation is mainly about job security rather than wages, mobility within or outside public service is almost non-existent, political dependence is strong, working equipment is scarce, corruption is among the highest at global level," it says.
It adds that Africa loses about $2 billion (Shs7.3 trillion) annually through brain drain in the health sector.
"Ghost public servants" populate many services, while too many of the best-trained choose to work abroad. Building public services in post-conflict settings, often from scratch, represents a specific challenge.
It says Ghana is the only country where civil servants operate entirely freely without political interference, according to Global Integrity and Mauritius is the only country in Africa where civil servants are appointed and evaluated entirely based on professional criteria. In Ethiopia, local governments have only 21 per cent of working days with Internet access, equivalent to only one day in a working week.
The report shows that only three African countries: Libya, Mauritius and Tunisia, have at least one doctor per 1,000 people.
Without naming the specific countries, it says five out of the 10 African countries with the largest public health expenditures as a percentage of total government expenditure are also among the 10 countries with the highest share of external financing of their total health expenditure.
According to the report, in sub-Saharan Africa, the average for private health expenditure is 57.4 per cent, more than twice the level of Europe and Central Asia.
On security, the report says personal safety is the most deteriorated of the 14 sub-categories in the Ibrahim Index of African Governance, over the past decade.
The report notes that 30 per cent to 50 per cent of Africa's total tax liability remains uncollected.
The average size of the informal sector in sub-Saharan Africa is estimated at 42 per cent of gross national income, reaching 60 per cent in Nigeria, Tanzania and Zimbabwe, according to the report.
Mr Mo Ibrahim, chairman of the Mo Ibrahim Foundation, said: "Public service is the pillar of governance, without strong public services and committed public servants, there will be no efficient delivery of expected public goods and services, nor implementation of any commitment, however strongly voiced."
He said the African countries remain a relatively small employer, at a cost higher than in other regions, with large country disparities.
According to him, health, education and security, public supply is far from answering the demand.
"Partly to answer the exponential demand, partly to substitute failing public supply, a growing range of non-state actors have become key providers of public goods and services, to an extent that many have sometimes prevented national governments from owning public policies," he said.
According to a press release from the foundation, the report will inform the discussion of the 2018 Ibrahim Forum taking place in Kigali, Rwanda, on April 28.
The Forum will focus on public service in Africa because its key in relation to good governance and effective leadership, new challenges and current shortcomings, and the ways and means to strengthen it and make it appealing to the next generation.
For the first time the Forum will be preceded by a 'Next Generation Forum' where the young generation will discuss as citizens what they expect from their public services, and as potential job seekers, the attractiveness or lack of it, of civil service at national, local or regional level. Outcomes will be shared the following day at the Ibrahim Forum by their representatives who will serve as 'challengers' by sitting as panelists in each of the sessions.
Key speakers
The debates to be moderated by Ms Nancy Kacungira, a presenter at BBC News, and Ms Ngaire Woods, Dean, Blavatnik School of Government, Oxford University, will see Ms Jennifer Musisi, the executive director of Kampala Capital City Authority and President Paul Kagame take part as key speakers.
Others are Ms Amina Mohammed, deputy secretary general of United Nations, Mr Herman Mashaba, mayor of Johannesburg, Mr Moussa Faki Mahamat, chairperson of African Union Commission, Ibrahim Mayaki and Ngozi Okonjo-Iweala, chair of the Board, Global Alliance for Vaccines and Immunisation (GAVI), among others.
THE FOUNDATION
Focus. The Mo Ibrahim Foundation was established in 2006 with a focus on the critical importance of leadership and governance in Africa. By providing tools to support progress in leadership and governance, the Foundation aims to promote meaningful change on the continent.
Key areas. The Foundation, which is a non-grant making organisation, focuses on defining, assessing and enhancing governance and leadership in Africa through four main initiatives: Ibrahim Index of African Governance (IIAG), Ibrahim Forum, Ibrahim Prize for Achievement in African Leadership and Ibrahim Fellowships and Scholarships.