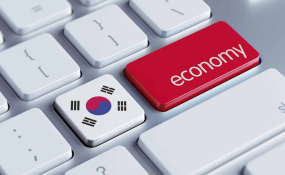 Photo: The Guardian
By Sunday Michael Ogwu
Washington DC — Finance Minister Mrs Kemi Adeosun has tackled the International Monetary Fund over its rating that places Nigeria among low income countries.
The rating is contained in series of reports released at the Spring Meetings of the IMF/World Bank last week in Washington DC by the fund.
The Fiscal Monitor report released by the IMF at the just meeting indicated in several analyses that Nigeria is a low income country.
Figure 1.8. 'Titled General Government Debt including implicit liabilities from pension and health care spending, 2017 categorized Nigeria under low-income developing countries.
The report did same with the foreign currency denominated general government debt, as well as Table 1.5 General Government Fiscal balance, 2012-23.
The IMF had warned that about 40 percent of low income countries are on a high risk of distress following increase in public debt.
Kemi however told Nigerian journalists on the side-line of one of her meetings that: "The concerns which have been expressed and which is a correct one is about debt levels in low income countries (LIC) as we call them. Nigeria is actually a mid income country.
The concerns that have been expressed are legitimate; those debt levels are at 55% GDP which is very high. Nigeria is at less than 20%, so we are not actually one of the countries they are expressing concerns about. However, we will continue to manage our debts very responsibly.
"We are at 20%; we don't intend to grow it aggressively. The debt of rate accumulation is slowing down as we are replacing debts with revenue and refinancing our debts. So its good advice for all seasons but we are not a low income country. But the classification, we are actually a mid-income country. We are not one of those they are expressing concerns about but we are listening. We don't need to become one of the categories they are expressing concerns about. The countries they are concerned about have ratio of 55%," Adeosun explained
The minister's argument may have been anchored on the World Bank's Global Finder Report 2018, launched at the IMF/World Bank meeting in Washington.
Anna Ilyina, who heads the Emerging Economies Regional Studies Division in the IMF's European Department, said: "Countries that are building up high debt levels and currency mismatch are going to be exposed to financial stability issues," she added.
Nigeria's external debt rose to $18.91 billion (N5.787 trillion) as at the end of December 2017, while domestic debt rose to N15.937 trillion, bringing the total debt stock of the country to N21.725 trillion ($70.92 billion), latest data released by the Debt Management Office (DMO) showed.
It could also be recalled that a United Nations Industrial Development Organization (UNIDO) report in 2016, classified Nigeria as a Lower Middle-Income country, alongside Cape Verde, Cameroon, Republic of Congo, Côte d'Ivoire, Djibouti, Ghana, Kenya, Lesotho, Mauritania, São Tomé and Principe, Swaziland, and Zambia.
When confronted by Nigerian journalists on the levels of the country at the African Department, Abebe Aemro Selassie, the African Department Director said: "In Nigeria, the public debt level is not the issue. The concern is more with the debt service. It is about the revenue base being too low to be able to service debt comfortably."