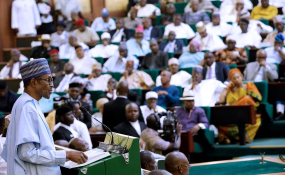 Photo: MBuhari/Twitter
By Sunday Michael Ogwu
Washington DC — The Federal Government yesterday said it has gotten assurance that the 2018 budget would be passed in a few weeks' time.
Commenting on the delayed passage of the 2018 budget, the Minister for National Planning who spoke to our reporter on the sideline of the Spring meeting in Washington, said: "The signals we are getting from the National Assembly are that they are now working hard to get this budget out in the next few weeks. That is a very positive signal and we are encouraged."
He said government is putting measures in place to ensure that the Economic Recovery and Growth Plan (ERGP) achieves the desire results.
He also disclosed that in the next two weeks, government would make the results of its focus labs public.
The focus labs involved stakeholders from the public and private sectors working together in a single environment to think out practical and workable solutions for delivering results that would propel the ERGP implementation.
Udoma said: "At the moment the focused labs are being conducted in agriculture, transportation, power and gas, manufacturing and processing. The response has been very good.
"We are looking forward to organising an open day in which we will share the results with the Nigerian public. That should be in the next one or two weeks and I am very encouraged by it.
"We just need to accelerate the ERGP a bit on some of our measures. We have a lot of measures in the ERGP and we need to accelerate on them."
He also reiterated that government has set a target of seven percent growth for the economy by 2020.
Also speaking to journalists, the Director General, Budget Office of the Federation, Mr. Ben Akabueze, said that MDAs have submitted all that is required to ensure the passage of the budget.
Akabueze assured that when passed, activities around the 2019 elections won't affect the budget implementation.
"It is in our collective interest to get the budget passed on time so that we can get on with implementation," he added.