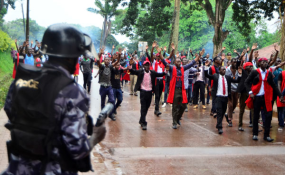 Photo: Alex Esagala/Daily Monitor
More than 1,500 support staff at Makerere University are demanding for explanations after the appointment of staff in disregard of known recruitment procedures. They accuse management of conducting discriminatory promotions and recruitments.
Peter Okello, the General Secretary National Union of Education Institution-NUEI Makerere Branch, argues that the promotions and recruitments have been ongoing but with exclusion of Support Staff in the University, which contravenes Section 5.13 (a) of the University Human Resource Manual of 2009, Section 6(3) of the Uganda Employment Act, 2006 and Article 21 (2) of the Ugandan Constitution.
While it is stated under section 6.8(e) of the Makerere University Human Resources Manual that; "all available vacancies shall be advertised internally or externally and shall be competed for by all eligible candidates," many vacancies in the university have been filled without following the due process.
Only those known to the top managers are recruited on temporary terms before they are confirmed.
Sources in the university intimated to this reporter that in 2012 the Human Resource Directorate published adverts to fill vacant administrative positions in the university.
A number of support staff with the required qualifications applied and were shortlisted, but the advert was cancelled just a day to the interviews.
According to the sources, the university management went ahead to regularize over 20 staff who were occupying those positions as stop-gap measures without subjecting them to any form of competition.
"The question that NUEI is seeking the answer for, is when do posts become vacant in this University if they continue to be filled with people brought as stop-gap for unspecified period of time?" asked Okello in an interview with this reporter.
According to NUEI, the conduct of the university managers amounts to abuse of office and causes financial loss to the University because those recruited through stop-gap measures are paid using university resources.
In 2014, the University outsourced catering services in the Halls of residence, which led to the demotion of all affected support staff.
A source told this reporter on condition of anonymity that "all domestic bursars who were at M12 and with Diplomas were made Custodians under the M15 salary, which is a clear indication of the institutional bias against support staff".
Bruce Bruno Twesigye, the Chairperson NUEI Makerere Chapter, says that they want all support staff who have upgraded their qualifications to be given an opportunity to grow, just like those in other categories.
Twesigye discloses that the University has several stop-gap staff in the support staff category at good scales. However, majority permanent support staff who have upgraded to diplomas and degrees are still in lower ranks," he said.
In November last year, the support staff under their union presented their concern to the Chairman Makerere University Council, Eng. Dr. Charles Wana-Etyem. They asked him to invoke Section 5.13(b) of the University Human Resource Manual and prevail on the relevant organs to act with transparency and fairness but they are yet to receive feedback from him.
Analysis of documents obtained by this reporter show that over 60 staff were centrally recruited in the University as stop-gap measure as at 30th of June 2017. This number according to sources excludes majority of other staff recruited and paid at Unit level. According to Okello, the number goes beyond 200 staff on stop-gap measures.
On March 5, Makerere advertised 247 jobs internally. Twesigye however says the internal advert that ran was selective.
According to Twesigye, support staff had been promised that vacancies that were not advertised internally were to be advertised externally but to their dismay, a cartel of administrators have rushed to bring their relatives to occupy those positions.