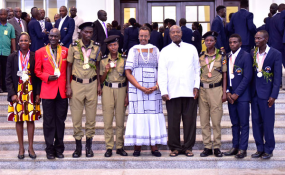 Photo: PPU
By Mark Namanya & Daren Allan Kyeyune
Entebbe — President Museveni has told government to pay 2018 Commonwealth double gold medallist Joshua Cheptegei arrears accrued from his IAAF world junior gold medal of 2014.
The President, who treated Uganda's team from the Gold Coast Games to a luncheon in Entebbe, also reaffirmed that other medallists in that period would also have their dues cleared.
"The money is only for medal winners at either continental or world level," Museveni noted in his speech to a packed conference room that included a huge delegation from Sebei region.
Gold medallists are entitled to Shs5m with silver fetching a monthly stipend of Shs3m. Bronze medallists like Juma Miiro and Mercyline Chelangat will start receiving Shs1m with immediate effect.
Museveni explained that Cheptegei would only receive Shs5m as a gold medallist and not twice the amount for being a double gold medallist.
With four years gone since his Eugene world juniors gold, Cheptegei can expect to receive at least Shs240m.
It remains to be seen how Solomon Mutai will be remunerated after his bronze medal at the Beijing 2015 world championships and now silver in Gold Coast.
Museveni attributed Uganda's six medals in Australia to a peaceful environment that allowed an ideal sporting climate.
"If you notice, Uganda's last such performance was in 1970 when there was stability but after that it was a battle for survival.
"There is no way anyone can compete in sports when his survival is not guaranteed. So those de-linking these medals from our contribution are wrong."
Priceless advice
Museveni advised upcoming talents in sport to attach themselves to forces where they can earn a salary and enjoy accommodation for starters.
"We have departments in prisons, army and the police that are willing and ready to take up prospective youngsters.
"When I asked (boxer) Juma Miiro where he is, he told me Naguru. I wondered what he benefits from that when he could have been in the army or police."
The President called upon the Minister of State for Sports Charles Bakkabulindi to sit down with sports authorities and note down the disciplines where government should enhance investment.
"There is no reason to focus on Squash and Badminton when we know that Athletics is a proven area for medals."
Museveni promised to ensure that there is heightened intensity in the construction of the High Altitude Training Centre in Teryet, a project that has taken a much longer time than anticipated ever since it was first mooted in 2006.
He also met 1996 Olympic bronze medallist Davis Kamoga and promised to work out a package for the former quarter-mile great.