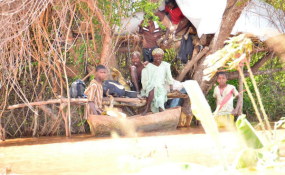 Photo: Stephen Oduor/Daily Nation
By Stephen Oduor
At least 1,800 people have been marooned by floods in Tana River, with Bura and Tana Delta sub counties the worst affected as families are forced to spend the nights on trees and rooftops.
There is a humanitarian crisis in the county as more than 20,000 people have been displaced from their homes by floods, with most residents finding refuge in camps.
Speaking to Nation, Tana River County Red Cross Coordinator Jarred Bombe said that rescue operations were currently ongoing in Tana Delta where about 200 families spend their nights on rooftops and trees as rains continue to wreak havoc.
"We are currently evacuating those who have been marooned in Tana Delta. The camps are congested due to the huge population," said Mr Bombe.
Crocodile attacks have also been reported in Tana Delta where a man was reportedly bit as he was trying to wade through the floods to safety.
The crocodiles, that are currently swimming upstream and into flooded villages, were spotted last week when the River Tana broke its banks, flooding villages.
Death toll has risen to six, with the most recent death having been of a National Youth Serviceman who was swept by floods while trying to cross a flooded section of the broken Bura-Madogo Road.
That section of the road has so far claimed three lives in less than two weeks.