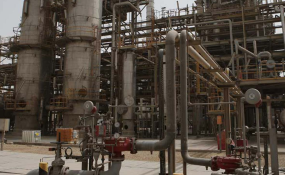 Photo: The Guardian
By Joseph Oduha
The Malaysia-owned oil firm, Petronas, is battling accusations of poisoning drinking water in the Thar Jath oilfield in South Sudan.
According to a report by German development agency Sign of Hope, Petronas's activities had put at a risk the lives of more than 600,000 people in the former Unity State.
The report says dangerous substances such as barium and lead had leaked into water sources for people and animals living in and around the Thar Jath oilfield.
It says Petronas was responsible for the leak that has already poisoned the water and some of the people.
Entire population
"We are talking about an oil catastrophe in South Sudan that affects more than 600,000 people. All these people are living in or around three oilfields in the country's north.
"That corresponds to about five per cent of the entire population of South Sudan," said Sign of Hope's vice-chairman Klaus Stieglitz.
South Sudanese microbiologist Bior Bior confirmed the poisoning of the water and warned of serious consequences on the lives of the affected populations.
"Human beings and animals continue to drink from the contaminated water source. It is evident that people and their animals that are exposed to these contaminants are made sick," Mr Bior Bior of the Nile Institute for Environmental Health was quoted saying.
He said the symptoms of the affected included skin problems, diarrhoeal diseases and sexual dysfunctions.
The affected areas
The Berlin-based Sign of Hope has now wants action taken against Petronas and the German Daimler Ben oil companies for the damage caused to the environment and the people.
"According to our calculations, it would cost approximately 250 Euros ($309) to support one person living in the affected areas with clean drinking water for 10 years. That would mean a price tag of 150 million Euros ($185.1 million) to tackle the most urgent need," Mr. Steiglitz said.
Oil is South Sudan's biggest export earner. It is also a lifeline for the government of the war-ravaged state.
However, Sign of Hope has warned that oil production comes with a heavy price for the people living in or around the oilfields.