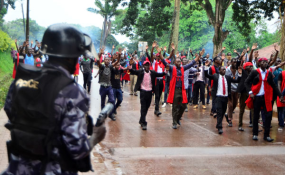 Photo: Alex Esagala/Daily Monitor
By Patience Ahimbisibwe
Kampala — The Minister of Education, Ms Janet Museveni has said government will continue supporting initiatives that supplement donors' contribution towards research until Uganda can fund it completely.
She was speaking at Makerere-Sweden bilateral research cooperation annual planning meeting for research support to Uganda yesterday.
"We are grateful to the royal government of Sweden for the generous support towards the advancement of research in institutions of higher learning. Government will continue supporting initiatives aimed at promoting research and innovation. That support will continue to expand.. and we hope that it won't be long until the government of Uganda can take on research completely," Ms Museveni said.
Transparency
"I appeal to you to continue being transparent talking to the universities in advancing the cause of Makerere Sweden collaborative programme. The government of Uganda shall be waiting for positive reports on the progress of this research collaboration," she added.
Ms Museveni appealed to public universities' management, academic, non-academic staff and students not to jeopardise the donors' support through disruptive activities such as standoffs.
"We should translate the theories taught at these universities into practice and entrench the culture of peaceful resolution of disagreements and or conflicts some of which arise simply out of distortion of information or even mere misconceptions... I am hoping that the students also will cooperate so that we can have a calm environment at these universities so that learning can happen," Ms Museveni said. Swedish ambassador to Uganda Per Lindgarde said 310 students on postgraduate training out of 337 applicants have benefited from the current project that runs through 2015 to 2020.
He urged stakeholders that their support will create a sustainable system for higher education and research even after the phase out.
"This meeting will hopefully demonstrate a key Swedish government position: the research cooperation is building a long term commitment beyond aid- a collaboration focused on scientific cooperation on equal footing between partners. I urge you to elaborate on this as you are planning for phasing out of the current form of cooperation," Mr Lindgarde said.
Ms Gity Behravan, the Swedish senior research adviser, said the university should regularly monitor the quality of supervision of the scholars.
Donor support
Funding: Prof Buyinza Mukadasi, the director Directorate of Research and Graduate Training said the Swedish government has invested $100m (about Shs360 billion) in training post graduate students in Kyambogo, Makerere, Busitema, Gulu and Mbarara universities.
Infrastructure: The Swedish support has also contributed to ICT, laboratory and field site infrastructural development. Prof Buyinza said the university only contributes 1 per cent of its internally generated funds towards research in addition to government support.