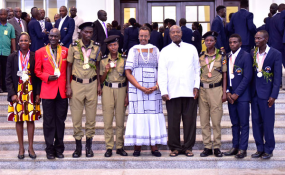 Photo: PPU
editorial
The impressive performance of Team Uganda in the just concluded Commonwealth Games in Australia ended in a luncheon with President Museveni at State House Entebbe on Sunday.
As usual, the issue of remuneration featured high on the agenda. And President Museveni said all medal winners at either continental or world level qualify for a monthly stipend. Gold medallists in Uganda are entitled to Shs5 million, Silver Shs3 million and Bronze Shs1 million monthly.
Dorcus Inzikuru, Moses Kipsiro and Stephen Kiprotich, among others, have been beneficiaries of government rewards. They all have houses built for them after their stellar performances. They have also received vehicles and other gifts. And we laud government on that.
However, many of the promises never come through, or take a snail pace to come to fruition. To begin with, the High Altitude Training Centre in Teriet, Kapchorwa District, is yet to be constructed, a decade after it was promised; although President Museveni on Sunday said he would fast-track it.
Secondly, as Beatrice Ayikoru, Uganda's head of delegation to the Gold Coast games said on Sunday, promises to athletes are usually abused as some of them go for months without pay.
For instance, last year the beneficiaries got the stipend for only two months in March and July. The good news, of course, is that President Museveni has promised to clear all the arrears. But implementation of this is usually the problem; with a peculiar red tape around the presidency. We hope it does not end with the feast.
To Uganda's credit, though, our reward system is way better than that of Kenya that has dominated the long-distance track for decades.
President Uhuru Kenyatta recently gave Kshs1 million to the gold medallists, Kshs500,000 for the silver winners and Shs250,000 for those with bronze, which is just a one-off and no mention of a house, car or other benefits.
They, however, beat us hands down when it comes to the facilities like training camps they have provided across the Rift Valley and other areas to develop and promote talent.
Sports is one single unifying aspect across the country and the government should use this chance to endear itself to Ugandans. It is needless to say Sebei has a lot of talent and an attention to the facilities in the hilly region will fetch the country numerous medals.
The rewards to the athletes is in the right direction and we should not shortchange our sportsmen and women after the cameras have shifted focus. Otherwise, this is just a pointer to a very bright future.