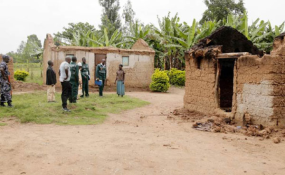 Photo: Rachel Mabala/Daily Monitor
By Joseph Omollo
Tororo — More than 2,000 residents affected by the Standard Gauge Railway (SGR) project in Tororo Municipality have petitioned President Museveni over delayed compensation.
The project affected persons (PAPs), led by their chairperson, Mr Patrick Gwokrick, handed over their petition to the office of the Resident District Commissioner (RDC) last Wednesday.
"We, the undersigned persons affected by the Standard Gauge Railway Project in Tororo Municipality, do register with regret our disappointment at the way government has handled the rightly deserved compensation exercise and for these reasons, we seek audience with you for considered parental guidance, preferably within this month of April 2018," the petition reads in part.
Mr Gwokrick said its now close to three years since SGR project commenced with the land acquisition process but the affected people have not been compensated.
He added that some of their properties were undervalued and others not valued at all by SGR officials.
"We are dissatisfied with the assessment because it was done in the absence of affected persons," he said.
Mr Ignatius Okong-Okiror, one of the affected persons, said government should expedite the compensation process.
Transparency
"We are not opposing the development but we want to ensure that there is transparency in the entire process and that we are paid what is worth our property. Short of that, we shall disagree," he said.
Mr Okiror said one time they raised the matter with the State minister for Works, who reportedly issued a directive to SGR prioritise their payment but this has not come to pass.
"Whenever we make any inquiries to SGR office, the response is that the money that was released was spent to meet administrative costs," he said.
The residents have threatened to demonstrate if they are not compensated.
"The government should expedite our compensation or else some of them may opt for an alternative to revoke the transaction," Mr Okiror said.
During a meeting with RDC Martine Orochi yesterday, the claimants also claimed existence of ghost PAPs on the compensation list.
Mr Orochi, however, applauded the aggrieved members of formalising their complaints.
The SGR communications officer, Ms Diana Apio, said government is in advanced stages of paying them.
"The delay came as a result of delayed release of funds but government is committed to ensuring that the people are adequately paid," she said.