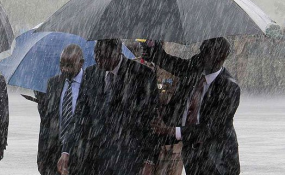 Photo: Nairobi News
By Derrick Luvega and Benson Amadala
Delegates and other guests arriving for the 5th devolution conference in Kakamega were left waiting for long hours at Amalemba Primary School where they were supposed to register.
The delegates expressed frustration on Monday morning as commotion ensued at the rarely busy school.
'TOO SLOW'
Some delegates arrived at the venue as early as 6am but by 11am registration was yet to start.
Police had a hectic time trying to contain the delegates who had started losing their cool.
Ms Nancy Adhiambo, an MCA from Kisumu County, said the registration was frustrating because the officials handling it were too slow.
"The Council of Governors (CoG) should have made advance preparation to ensure a smooth registration process," she said.
"I have been standing on the queue for the last two hours but there is still a lot of confusion. We don't know how long this will last."
Mr Lawrence Oyando of Khwisero in Kakamega said the organisers needed to speed up the process to avoid inconveniencing delegates and other guests.
He had arrived at the centre at 6am.
"What is happening is a disappointment. The organisers need to sort out the confusion urgently," he said.
SECURITY
Mr Johnson Wandera, a resident, said it was unfortunate that organisers had not erected direction signs to direct guests to their respective desks, leading to the confusion.
Roads leading to the venue and the registration centre had heavy traffic as police erected road blocks for security checks.
Kakamega South police boss Bernstein Shari said the officers had been detailed to maintain law and order at the registration venue.
"We are closely working with officials to ensure the registration proceeds without hitches. We are calling on visitors to be patient as officials set up registration equipment. "
Meanwhile, security was tight at the Kakamega airstrip, where President Kenyatta is expected to land on Tuesday.
A group of traditional dancers were on standby to entertain arriving guests.
A Kenya Air Force place landed at the airstrip at 11am for a test run.