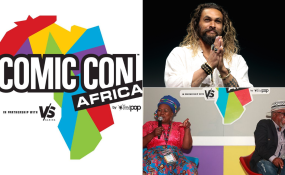 Photo: allafrica.com
press release
Reed Exhibitions Africa, ReedPOP and VS Gaming have confirmed that Jason Momoa will be attending Comic Con Africa on the 15th & 16th September. Jason is most well-known for his legendary roles as Aquaman in Warner Bros' Justice League and as the Dothraki warlord "Khal Drogo" in Game of Thrones.
Due to his iconic performances he is the perfect fit to be one of the headline guests at the first African Comic Con.
Comic Con Africa will be held from 14 – 16 September 2018 at the Kyalami Grand Prix Circuit & International Convention Centre. Comic Con Africa, the first of its kind on the continent, will feature all elements of comic books, science fiction/fantasy related film, series and similar popular arts as well as a large range of pop culture and entertainment elements including animation, toys, gadgets and so much more.
2018 will feature Jason in the standalone Aquaman movie which will be premiering later this year, and Jason stars as a lead in the Netflix action/adventure series called Frontier, produced by Jeff Fierson and Brad Peyton (SAN ANDREAS), with Peyton also directing.
Jason's other movie appearances include Conan the Barbarian, Bullet to the Head, Sugar Mountain and The Bad Batch. Later this year he will also be appearing in the action-thriller Braven, directed by Lin Oeding, that Jason is also producing.
About Reed Exhibitions Africa
Reed Exhibitions is Southern Africa's top exhibition organiser and venue management company. With access to global trade and consumer event organising expertise serving 44 industry sectors, we provide the best platform to showcase all industry sectors.
About ReedPOP
ReedPOP started up back in 2006, and we've been on an epic ride ever since! From the very first New York Comic Con to launching and acquiring the coolest events all over the world, we've always stayed true to our core beliefs of always putting our fans first, creating killer events and being as transparent and authentic as possible. We try our hardest to bring massive amounts of fun and excitement to the lives of our audience by creating content and experiences that are original, exciting, memorable and exceptionally awesome. We owe a huge thanks to our fans for fuelling this amazing journey that we are on, and we hope that you'll continue to party with us in the future.
About VS Gaming
Formerly DGL, VS Gaming is South Africa's largest independent gaming brand and the leading platform for online gaming in Africa. Since 2008, we've been devoted to providing regular tournaments and ladders across all major game titles and skill levels, because we're just as passionate about virtual sports as you are.
As one of the fastest growing digital networks in Africa, we're here to take local gaming to the next level by providing improved spectator access, increased awareness, education and a fun, social and rewarding environment for both pros and casual gaming enthusiasts.