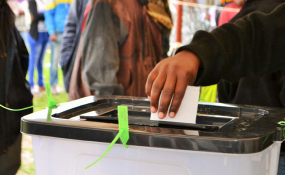 Photo: Capital FM
Maputo — After five weeks of voter registration, only 49 per cent of the estimated 8.1 million potential voters entitled to register have done so ahead of Mozambique's municipal elections scheduled for 10 October.
Giving the latest figures at a Maputo press briefing on Tuesday, the chairperson of the National Elections Commission (CNE), Abdul Carimo, said he does not envisage any extension of the registration period, which ends on 17 May. That means there are just three and a half weeks left to register 51 per cent of the target figure.
Five provinces are past the halfway mark. The northern province of Cabo Delgado has done best, reaching 71.98 per cent of its target. The other provinces that are now over 50 per cent are Inhambane (62.8 per cent), Sofala (54.93 per cent), Gaza (58.71 per cent), and Tete (52.04 per cent).
The province that is causing most concern is Niassa in the far north, where only 34.87 per cent of the target figure have registered. Maputo city and province are also doing surprisingly badly reaching only 43.31 and 39.21 per cent of their targets respectively.
The figures for the other three provinces are: Nampula (48.36 per cent), Zambezia (47.29 per cent), and Manica (45.27 per cent).
When the figures are broken down by district, the best result comes from Chiure, in Cabo Delgado, which has registered almost 94 per cent of its potential electorate. Vilankulo, in Inhambane, has registered 83 per cent of its target. No other district comes near these figures.
At the other end of the scale, Mandimba, in Niassa, has only managed to register 20.7 per cent of its target.
Perhaps the most shocking figure comes from KaMpfumo district, in the heart of Maputo city, and the richest part of the country, where nobody has to walk more than a couple of minutes to reach a registration post. So far only 29.5 per cent of the KaMpfumo electorate has registered. Outlying Maputo urban districts have done much better (66.98 per cent in Katembe, and 63.02 per cent on Inhaca island.
The city of Matola, the second largest city in the country, is also lagging very badly, with only 33 per cent of its potential electorate registered. Another major city doing badly is Quelimane, capital of Zambezia province, which has only reached 32.6 per cent of its target.
The spokesperson for the Electoral Administration Technical Secretariat (STAE), the executive wing of the CNE, Claudio Langa, told reporters that STAE is very concerned at the low levels of registration. He said that last week 250 solar panels were distributed and this week a further 350 panels are being distributed to guarantee electricity for registration posts in areas that are not on the national grid. But this will not solve the slow registration in Maputo and Matola, where the electricity supply is not a problem.
Langa also confirmed that STAE has told the registration brigades not to turn away people because they disapprove of their clothing.
Over the weekend cases were reported of brigade members turning themselves into arbiters of public morality, and refusing to register women whose shoulders were uncovered. Langa described this as an "excess of zeal" and said it would not happen again. Brigades must not turn away potential voters merely because they are wearing T-shirts, shorts or flip-flops.