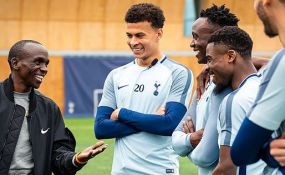 Photo: Nairobi News
By Ayumba Ayodi
Newly crowned London marathon champion Eliud Kipchoge visited Harambee Stars captain Victor Wanyama at his Tottenham Hotspur club in England on Tuesday.
Kipchoge, the 2016 Rio Olympic Marathon champion was accompanied by his coach Patrick Sang, got to receive a Spurs jersey from Wanyama and also met the team coach Mauricio Pochettino.
Kipchoge, 33, donning a grey t-shirt, black jacket and a blue jeans also posed for photos with several of Wanyama's teammates.
The jersey, printed number 1, was embedded with Kipchoge's name.
Kipchoge produced a great masterpiece virtually from start to finish, winning his third London Marathon title in 2 hours, 04 minutes and 17 seconds on Sunday.
Kipchoge dropped off Ethiopian Tola Shura Kitata just after the 37km mark before engaging the final gear to seal his ninth career marathon victory.
Kipchoge, who won the 2016 London Marathon in a course record 2:03:05, was eying to break the World Record time of 2:02:57 but failed in his quest.
Kitata, who won Rome and Frankfurt Marathon last year, finished second in career best 2:04:49 as home athlete Mo Farah came in third also in personal best 2:06:32.
The 2009 and 2011 World marathon champion Abel Kirui from Kenya settled fourth in 2:07:07 followed by compatriot Bedan Karoki in 2:08:34.