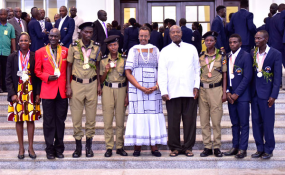 Photo: PPU
By Moses Kyeyune
Parliament has honoured national athletes for raising Uganda's flag high in the 21st Commonwealth Games, held on Gold Coast, Austria.
This comes just days after President Museveni hosted the winners Joshua Cheptegei, Stella Chesang, Mercyline Chelangat, Solomon Mutai and Juma Miiro, among others to a state dinner at State House Entebbe.
The motion to congratulate the team was tabled by Ajuri County MP Hamson Obua (NRM) and seconded by Bukedea Woman MP Anita Among.
Mr Obua said that the future of sports in Uganda is bright and that there is need for deliberate investment measures in the sports sector.
"Investment in sports is not a choice but an obligation on the gov't and all of us," Mr Obua said.
As the debate ensued, the winners, seated in the Public gallery watched and closely followed with delight.
Mr Obua added that there is need for government to complete the high altitude training centre in Sebei region for the sports persons to train rather than having to travel for training in the neighbouring Kenya.
"The government of Kenya cannot certainly be happy to see Ugandans training from their grounds and winning gold," he said.
The lawmaker further expressed concern over the delay to construct the Akii Bua memorial stadium in Lira.
He said that the land has since been claimed by Lira Regional Hospital, forcing the District Council to obtain another piece of land.
Uganda has only one national stadium, the Mandela national Stadium- Namboole, but it is in a dilapidated state.
Mr Obua reported to Parliament that the facility's land has come under intense encroachment and asked Parliament's Committee on Education and Sports to investigate the matter and bring perpetrators to book.
Regarding legislation for sports, Mr Obua said that there is need to repeal the 1964 National Council of Sports law, arguing that a new law will help solve the funding of sports.
"We shall not continue on good will of individuals if we have a better law in place," said Obua.
Parliament also questioned the delays by the government and President in fulfilling pledges made to the sports men and women who excel both locally and internationally.
Bukwo District Woman MP Evelyn Chemutai said that the delay have killed moral from the sporting team and young stars.
She also said that more undertakings and not pledges should be made in appreciation of talented Ugandans.
"Let us have our roads named after our stars like Dorcas Inzikuru, Moses Kipsiro, Stella Chesang Stephen Kiprotich and Joshua Cheptegei. Why do we have roads named after foreigners we even don't know," said Chemutai.
President Musveni, while meeting the medalists recently pledged to give each a monthly salary depending on their medals. He said dold medalists would be paid Shs 5 million, Shs 3 million to silver and Shs1 million to bronze medalists.
Meanwhile, Mr David Emong, winner of the 2017 gold medal in the Paralympics told Daily Monitor that the reality is detached from promises.
"These motions are very good but the pledges are never fulfilled," Emong said.
Emong's concern were echoed by Ayivu County MP, Bernard Atiku, who said that many promises were far from attainable.
The Deputy Speaker, Jacob Oulanyah tasked the minister of state for Sports, Charles Bakabulindi to think of comprehensive measures to support the sports sector.