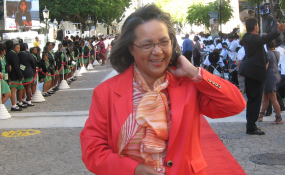 Photo: Abokoe Sibanda
The Democratic Alliance's Cape Town caucus is expected to debate an internal motion of no confidence in embattled Cape Town Mayor Patricia de Lille on Wednesday.
The one-and-a-half-year saga between De Lille and her party will finally come to a head on Wednesday afternoon when DA councillors convene for the next step in the party's new "recall clause" process.
They will caucus after the City of Cape Town council concludes its business for the day, to debate, discuss and ultimately vote on the future of the former Independent Democrats leader.
Deputy caucus leader JP Smith - who is acting as leader while De Lille is suspended - told News24 on Tuesday that it was likely to take two to three hours to get through the issue.
An outcome was therefore only expected late in the evening, if the unlikely option of consensus was not reached, and if voting took place through a secret ballot process.
Smith also said the caucus might not issue a media statement immediately because the outcome must first be communicated to the DA's federal executive.
The caucus will also decide whether to alert the public once that happens, or whether to allow the federal executive to do it.
End of the road for De Lille?
The DA caucus needs 50% of its councillors to appear for the meeting to form a quorum, and 50% plus one of those present is needed to pass the motion against De Lille.
It's expected that De Lille has hit the end of the road with her party, after almost two-thirds of those present at the last caucus meeting voted to ask for permission to hold the internal motion.
In the event of a successful motion, De Lille will not be automatically removed as mayor.
According to the DA's new "recall clause", once the federal executive receives the outcome of the caucus's vote, it has to invite the subject to make representations on why he or she should not be removed.
The federal executive will sit again to decide the person's future, only once the person submits representations.
If the federal executive ratifies the caucus' decision, De Lille will be given 48 hours to resign.
If she does not resign, the federal executive can initiate proceedings to terminate her membership of the party.
If she resigns, she keeps her position as a DA councillor.
If her membership is terminated, she loses her position, and the mayoral committee appointed by her will dissolve.
The council must then elect a new mayor within 14 days, according to the Municipal Structures Act.
Deputy Mayor Ian Neilson - as the only other official elected to his position by the council - will exercise De Lille's powers and perform her duties in the interim.
News24