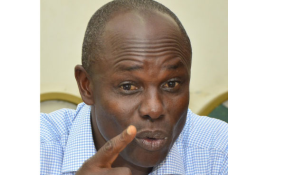 Photo: Daily Monitor
By Solomon Arinaitwe
Kampala — A plan by Uganda Broadcasting Corporation (UBC) to pay Shs11b to businessman Hassan Basajjabalaba through the Ministry of Finance has been queried by both Cabinet and Members of Parliament after it emerged that the Supreme Court ruled in 2014 quashing the payment.
Dealings between UBC and Mr Basajjabalaba through his Haba Group of Companies ran into trouble in 2011 when President Museveni ordered the sacking of then UBC managing director Edward Musinguzi Mugasa and the board over mismanagement of operations of the national broadcaster, including fraudulent sale of its assets.
Key among the cases of mismanagement was a dispute between UBC and Haba Group of Companies over 5.1 acres of land on plots 8-10, 12-16 and 18-20 on Faraday Road in Bugolobi, a Kampala suburb.
After back and forth bouncing of cases between the High Court and Court of Appeal, the Supreme Court ruled quashing the payment of Shs11b as compensation to Mr Basajjabalaba for losses he suffered when he lost his land to UBC.
But it emerged during a Cabinet meeting on Monday that UBC had lined up Shs11b in the 2018/19 budget, through the Ministry of ICT, as payment to Mr Basajjabalaba, prompting suspicion that there could be something irregular about the arrangement.
Cabinet fire
Secretary to the Treasury Keith Muhakanizi told Parliament's ICT committee yesterday that there were "fireworks" in the Cabinet meeting as ministers accused him of "smuggling" in the Shs11b payment to Mr Basajjabalaba.
Mr Muhakanizi drew in Parliament Speaker Rebecca Kadaga, saying she has written three letters to him directing that Shs11b be paid to Mr Basajjabalaba.
The Speaker, Mr Muhakanizi said, wrote to him on January 1, 2017, and again on February 20, 2017, while her latest directive came through an April 6, 2018 letter.
Ms Kadaga also interfaced with Finance minister Matia Kasaija over Mr Basajjabalaba's payment, Mr Muhakanizi told the MPs.
"It is an area [compensation] coming out of UBC, therefore, the money has to come from UBC. I heard that there was fireworks in Cabinet yesterday [Monday] with some people saying Muhakanzi is smuggling [money into the budget]. What was causing confusion in Cabinet was that they thought the Shs11b was appropriated in a supplementary schedule for this year [2017/2018]," Mr Muhakanizi said.
But State minister for ICT Idah Nantaba tasked Mr Muhakanizi to explain why the Finance ministry has set aside Shs11b for payment while waiting for the Attorney General to provide guidance on whether to proceed with the payment.
"The PSST [Muhakanizi] has just informed us that he has sought the opinion of the Attorney General on whether to proceed with the payment. Why then does he go ahead to appropriate without the opinion of the Attorney General?," Ms Nantaba asked.
But Mr Muhakanizi failed to answer why the government has elected to rush the payment of Mr Basajjabalaba even as other government payments and Parliament resolutions remain ignored by the Executive.
Maxwell Akora, the committee vice-chairman (Maruzi County), questioned whether the Speaker has powers to direct the Secretary to the Treasury and why the payment to Mr Basajjabalaba was being handled with more urgency than others.
Background
After Mr Museveni ordered the sacking of then UBC managing director Edward Musinguzi in 2011, police were ordered to investigate the matter. Currently, Mr Musinguzi and his then board are in court battling corruption-related charges.
Following this, UBC sued city businessman Basajjabalaba whose company Haba had attempted to acquire the Bugolobi land. Haba has since lost this very case in both High Court and Court of Appeal and subsequently appealed to the Supreme Court.In the Supreme Court, lawyers representing UBC and Basajjabalaba entered into an out-of-court settlement.
They wanted the court to sanction the deal where UBC would pay Basajjabalaba Shs36b as compensation for the botched sale of the land in measuring close to 25 acres. But justices of the court lead by Justice Bart Katureebe on June 24, 2014 threw out Basajjabalaba settlement, reasoning that they could not sanction a settlement where the Court of Appeal had ruled that there was gross illegality on the part of Haba while attempting to buy the UBC land.