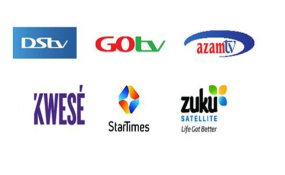 Photo: The Independent
analysis
By Othman Semakula & Stephen Otage
Kampala — The battle between Uganda Telecommunications Commission (UCC) and pay TV service providers seems to be deeper than meets the eye.
It is one that has been under wraps and seems to have been blown out in the open after a media exchange between the two on Monday.
At the centre of the battle are mainly three issues including an "exorbitant" revision of the pay TV licensing regime that puts new fees at Shs550m up from Shs22m.
Beyond this, is the refusal by pay TV service providers to submit audited books of accounts, which the regulator says does not provide them with a clear assessment of how much a pay TV must contribute off its annual gross revenues.
Under the UCC Act every pay TV must remit 2 per cent of its gross revenue to UCC for the development of local television content, establishment of new local television stations and expanding the reach of TV service across the country.
Herein lies the contention as UCC says it must measure how much pay TVs remit based on audited books.
Just like telecoms, UCC says, there is nothing peculiar for pay TV service providers to submit audited books detailing their income and other revenues.
In a Monday notice, UCC said pay TV service providers including Multichoice, which broadcasts as DStv, GOtv, Star Times, Azam, Zuku and Kwese were operating illegally and had been given up to April 30 to comply or face the law.
"The Commission shall with effect from April 30 commence vigorous enforcement action against all Pay TV provider that will continue broadcasting without complying with the law. Enforcement measures shall include but not limited to closure of broadcasting facilities and prosecution of offender(s)," the notice reads in part.
In a media interview yesterday, Mr Godfrey Mutabazi, the UCC executive director, told Daily Monitor that pay TV service providers were taking advantage of Ugandans and failing to offer some services such as Internet TV, which are provided for under digital migration.
This, as it seems, could be the other sticky issue, which as Mr Mutabazi says is a service that Pay TV operators must provide as part of their packages.
This in essence, according to Mr Mutabazi, means that every Ugandan who has TV access via a paid-for decoder must be able to access Internet that they can use to send emails and such other services.
However, Pay TV service providers currently don't offer this service and have not come out to explain why.
'Internet and television broadcasting is now one. You can access Internet and send your emails via television. Decoders should be providing internet in homes," Mr Mutabazi said.
Reached for a comment, Mr Charles Hamya, the chairperson of pay TV service providers and the managing director of Multichoice invited Daily Monitor to the company's offices in Kololo, Kampala for an interview but later declined to comment on the matter referring this reporter to a press release that pay TV service providers had released in response to UCC's notice.
In a joint press release, pay TV service providers, indicated there had been ongoing engagements, noting that they were therefore surprised that UCC could "allege that all pay TVs in Uganda were non-compliant", despite the fact that the same regulator had licensed them under the previous regime.
Key among the contention, according to Pay TV service providers, are the changes in the licensing framework fees that were increased by about 2,400 per cent to Shs550m.
The licensing regime, pay TVs argue, is not sustainable as it will substantially increase the cost of pay TV thus making it unaffordable.
"Pay TVs will have no choice but to pass on these increased fees to subscribers if we are to survive, which we are reluctant to do as it would make Pay TV services unaffordable and place an additional burden on consumers," part of the joint press release reads.
Yesterday Pay TV service providers were engaged in a closed day-long meeting trying to discuss how they can sufficiently respond to UCC, which has given them an ultimatum of April 30 to comply.
A source inside the meeting (of Pay TV service providers), who declined to be named because of the sensitivity of the matter told Daily Monitor yesterday that they had resolved to remain silent for now pending a meeting between themselves, UCC and the permanent secretary at the Ministry of ICT.
However, we could not independently verify when the meeting will be taking place as details remained scanty by press time.
The new licencing regime, which seems to be the main sticky issue, came into force on January 1.
However, Pay TVs say it's highly unfriendly for them as investors and will have dire consequences on the industry, especially in regard to pricing of packages.
Other issues
Some Pay TVs such as Multichoice, according to Mr Godfrey Matabazi, claim that they are not broadcasters but only assemble the programmes and sell them as a package.
"They do not develop the content. We told them to pay landing fees for their services to be accessed in Uganda which they are opposing. We then asked them to show us their profits and audited books of accounts but they do not want to," he says.
Basis of license regime
Substituted: When UCC switched to digital broadcasting, according to Mr Mutabazi, the migration only relieved pay television service providers the burden of hiring separate physical premises for regional stations but that did not remove the annual subscription fees which each station pays because the new infrastructure has substituted the stations which were abolished.
"During analogue, Star Times, had 20 stations across the country, each paying an annual subscription fee of Shs20m. Each year, they were paying Shs400m which is not different from what we are asking for," he said.