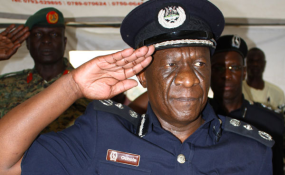 Photo: Andrew Bagala/Daily Monitor
By GODFREY SSALI
Kampala — Government Chief Whip Ruth Nankabirwa (NRM, Kiboga) has asked Ugandans to accord new Inspector General of Police Martins Okoth Ochola time to perform his duties.
"I am not competent enough to gauge whether he [Okoth Ochola] is performing or not. I want to request that he be given sometime to organize and reorganize the Police so long as we are safe," said Nankabirwa in Parliament on Tuesday.
This was in relation to MP Waira Majegere (Ind., Bunya East), who had complained about alleged plans to close down up to 1,500 Police posts.
Waira blamed Police for the plans, saying the reason presented for the impending decision is that the stations are vulnerable to thugs and criminals who attack it with the intent to steal weapons.
He said if the criminals can overwhelm the Police, it will be harmful for the residents of the affected areas.