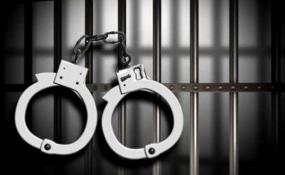 Photo: Leadership
A 35-year-old man who stabbed and stoned his grandmother to death has been found guilty of murder and sentenced to life imprisonment by the Limpopo High Court on Tuesday.
In August 2015, William Lebogo tracked down his paternal grandmother after she had apparently used unknown rituals around his parent's home at Ga-Mashashane village, outside Polokwane.
Lebogo confessed to the crime and pleaded guilty. He told the court that he followed his grandmother after she failed to explain what she had sprinkled along the house's fence.
Handing down the judgment on Tuesday, Judge George Phatudi said he did not have a choice but to pass a life sentence on Lebogo.
"If you go out killing people thinking that you are being bewitched or you develop anger at them because you see them sprinkling unknown substances... that cannot constitute substantial and compelling circumstances," said Phatudi.
During the trial Lebogo, through his attorney, presented a graphic outline of how he killed his grandmother.
No justification
In his statement, Lebogo told the court that he followed her and killed her because he suspected that she had used witchcraft-related rituals at the home. He also told the court that he blamed her for his mother's death.
Based on the admitted facts contained in the statement and the court being satisfied of the crime Lebogo had committed, Phatudi found him guilty.
He further told Lebogo that the verdict was in accordance with the strength of the plea he had made.
However, the State argued that no matter what had happened, it did not warrant the death of his grandmother.
The deceased died as result of trauma to the head.
Phatudi said he found no compelling circumstances that could have pushed him to deviate from the prescribed minimum sentence.
Family feud
"The murder was pre-conceived and gruesome. What is particularly disturbing was that the deceased was not only defenceless, she was an old lady.
"She was the accused's paternal grandmother, closely known and related, by blood," said Phatudi.
Some of Lebogo's relatives who were in the courtroom welcomed the sentence while others attempted to comfort him.
Earlier during proceedings Lebogo's paternal uncle, Sabastien Thamago Lebogo, told the court that the murder had caused a rift and feuds within the family.
NPA provincial spokesperson Mashudu Malabi-Dzhangi said the judgment sent a strong message to those who targeted the vulnerable and put others' lives at risk because of their beliefs.
"As the NPA we hope that it will send a strong message that killing a person because of witchcraft accusations will lend you in jail," said Malabi-Dzhangi.
Source: News24