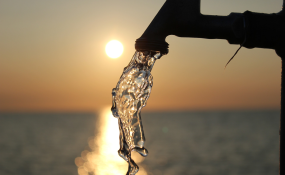 Photo: Pixabay
IN hardly two years, water and sewerage authorities' bills to customers will significantly drop as a result of sourcing water treatment chemicals, domestically.
Production of water treatment chemicals by the multibillion factory whose construction kicked off at Mlandizi, Coast Region, yesterday, will also bring a sigh a relief to the government, which has been spending huge amount of foreign currency to import the compounds. JUNACO Tanzania Limited has partnered with Malaysian Serb Dinamik Holdings Berhad to construct the 256bn/- factory.
Speaking at the foundation stone laying ceremony at the project site at Mlandizi, JUNACO (T) Limited Managing Director Justin Lambert described the project as unique, saying it's the second in Africa. He said upon its completion, the project will create 700 direct jobs, adding that uniodized salt is the potential material for the industry to produce chlorine alkaline, the chemical that is used to produce compounds for water treatment and disinfestation processes.
He said the factory at fully operational, will provide reliable market for salt producers, some of whom are contemplating closing their businesses due to lack of reliable markets.
"Some producers of unidiozed salt in the country are thinking of closing down their businesses due to market constraints ... we are here today to tell them not to close businesses because all their salt will be absorbed once this factory becomes operational," Mr Lambert said, adding that the plant will be consuming 2,500 tonnes of salt monthly.
Serb Dinamik Holdings Berhad Chief Executive Officer Karim Abdullah said his company partnered with JUNACO (T) Limited to bring the expertise to Tanzania.
"This is a landmark project in Tanzania. Owing to the expertise, good experience and performance in other countries, our company is listed on the Malaysian Stock Exchange," he said. According to Dr Abdullah, the company operates in similar sector in several countries in the Middle East and Central Asia. It also operates in UK, Mexico, New Zealand, Australia and Indonesia. "We want to bring this expertise to Tanzania.
We thank the general public, decision makers and regulators for supporting this project," Dr Abdullar appreciated. Water and Irrigation Minister, Engineer Issac Kamwelwe (pictured), said the government is ready to purchase the chemicals to save the foreign currency, provided the products are up to the required standards.
Gracing the event on behalf of Vice-President Samia Suluhu Hassan, Industries, Trade and Investment Minister Charles Mwijage said the government will allocate a special area at TEMCO area in Coast Region for public dissemination of knowledge on industrialisation concept.