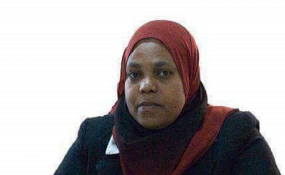 Photo: ThisisAfrica
By Kylie Kiunguyu
The appointment of Muferiat Kamil as house speaker of the Ethiopian House of Peoples' Representatives, marks her as the first ever female house speaker in the parliament's history.
Muferiat Kamil replaces former house speaker Abadula Gemeda, who after holding the position since 2010 submitted his resignation letter in October 2017 but remained in the position after a series of consultations with the country's' government.
Her appointment is a correction brought on by criticism of Abiy Ahmed raised by legislators of his initial cabinet list that had a glaring lack of women. Ahmed, the first ethnic Oromo to become PM. announced a cabinet reshuffle of 29 ministers, ten of them being new entrants and six reassigned portfolios but all male.
Kamil was born in Jimma in south-western Ethiopia and graduated from Haramaya University with BSc. degree in Agriculture in 2000. She belongs to the Southern Ethiopia Peoples Democratic Movement (SEPDM) which is one of the constituent bodies of the ruling Ethiopian People's Revolutionary Democratic Front (EPRDF) where she worked as a junior public relations officer till her appointment as Minister of Women's Affairs.
Since the start of her career Kamil has held different women affairs roles from 2002 until her 20017 appointment as Public Relations Advisor to the Southern Nations, Nationalities, and Peoples' Region (SNNPR) President. Then in 2008 the new speaker became Minister of Women's Affairs at the age of 32 making her the youngest appointee of the late Meles Zenawi.