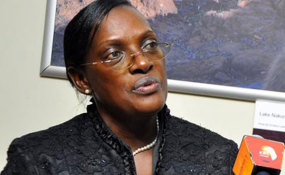 Photo: Daily Monitor
By Andrew Bagala
Kampala — The outgoing Bank of Uganda supervision director, Ms Justine Bagyenda, has filed a case against 12 media houses at the Directorate of Criminal Investigations (CID) accusing them of defamation.
The media houses, most of them online publishers, allegedly published Ms Bagyenda's leaked bank, mobile money details and photographs of her alleged property.
Mr Vicent Ssekatte, the spokesman of CID, confirmed that Ms Bagyenda has registered a complaint at police and investigations have already started.
"It is true that she recorded a complaint and officers who handle criminal defamation and electronic related crimes are investigating. There are several media houses that are under investigation and their editors or owners are to be summoned to record statements," Mr Ssekate said yesterday.
The media houses
He said the complaint is against stories that were published in Chimpreports, Eagle Online, Matooke Republic, Spy Reports, Trumpet news, CEO Uganda, Watchdog Uganda, Xpress Times, Investigator, Newz Uganda, The Insider Uganda and Daily Post Uganda about Ms Bagyenda.
By yesterday, the detectives were still processing summonses for the editors and owners of the affected media houses to appear at CID headquarters to record statements.
Detectives are focusing on offensive communication and criminal libel charges.
The publication of Ms Bagyenda's bank and mobile money transfer details prompted several major commercial banks to run public apologies in the media and promised to punish their workers who leaked them to different online publications.
One of the owners of Spy Report online media, Mr Raymond Wamala, confirmed that he has informally been told about the police case, but added that they had not received summonses yet.
The president of online publishers, Mr Giles Muhame, said he was not aware of any police investigations related to Ms Bagyenda against them.
The law
Section 25 of the Computer Misuse Act 2011 on offensive communication states: "Any person who wilfully and repeatedly uses electronic communication to disturb or attempts to disturb the peace, quiet or right of privacy of any person with no purpose of legitimate communication, whether or not a conversation ensues, commits a misdemeanour and is liable on conviction to a fine not exceeding twenty four currency points or imprisonment not exceeding one year or both."
Twenty four currency points is an equivalent of Shs480,000.
Section 179 of the Penal Code Act states: "Any person who, by print, writing, painting, effigy or by any means otherwise than solely by gestures, spoken words or other sounds, unlawfully publishes any defamatory matter concerning another person, with intent to defame that other person, commits the misdemeanour termed libel."