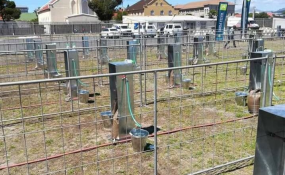 Photo: @MyWaterMeter/Twitter
Five billion litres of life-saving water arrived in the Misverstand Dam on Wednesday, just as Saldanha Bay was about to run out of water.
"The five billion litres of water that we released from Berg River Dam has arrived in the Misverstand Dam," said Minister of Local Government, Environmental Affairs and Development Planning, Anton Bredell.
The water was released last Wednesday by the national Department of Water and Sanitation (DWS) to replenish the dam, situated near Piketberg, north of Cape Town.
The topped-up dam is east of Saldanha Bay, in the West Coast region of the Western Cape.
The DWS had estimated that water from the Misverstand Dam would run out on April 24, with no further water extraction possible.
Last week law enforcement officials had to protect the water as attempts were made to steal some as it made its way from the Berg River Dam to the Misverstand Dam.
Water use in South Africa is strictly controlled through licence allocations for business and farmers. Domestic use is monitored through metering and if necessary, pressure is throttled to reduce usage.
Bredell thanked the DWS, and all other workers and law enforcement officials who made sure the water got from one dam to the other safely.
"I want to thank our national colleagues for stepping up, working with us. [DWS] Minister [Gugile] Nkwinti is always willing to listen and to take our calls. This is our success we are all celebrating here today."
Bredell called on the people of Saldanha Bay Municipality to keep reducing consumption after its close shave with "Day Zero" - a term coined to describe when municipalities can no longer get water out of dams.
"At least we are expected to get some rain tonight, but we need at least two to three years of good rain to really get us out of the woods," said Bredell.
The Western Cape was declared a drought disaster zone and many regions are subject to severe water restrictions until rain resumes and water supplies are properly replenished.
The City of Cape Town had its own boon of a water release from the Groenland Water User Association to the Steenbras Dam in February.
Cape Town's municipality thinks it will avoid running out of water if domestic users stick to their 50l per person per day limit, if the city as a whole drops to 450ML per day, and if there is a lot of rain.
Source: News24