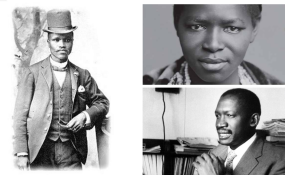 Photo: allafrica.com
By Socrates Mbamalu
South African universities are removing the names of colonialists and racists and renaming important buildings in honour of anti-apartheid struggle icons and activists. Rhodes University has honoured Robert Sobukwe the founder of the Pan Africanist Congress, Mmakgamo Charlotte Maxeke, a social worker and political activist, and Enoch Mankayi Sontonga, who wrote South Africa's national anthem Nkosi Sikelel' iAfrika.
South Africa is home to many freedom fighters, some are more prominent and well known than others. All of them are important, joined by the struggle against Apartheid. Three of the most prominent struggle icons Mmakgamo Charlotte Maxeke, Mankayi Enoch Sontonga and Robert Mangaliso Sobukwe have been honoured by Rhodes University. Three residencies were renamed in their honour, with their family present at the event.
The renaming of Jameson House (Mmakgamo Charlotte Maxeke House), Piet Retief House (Mankayi Enoch Sontonga) and Jan Smuts House (Robert Sobukwe House) is part of a continuing transformation agenda at the university, the Rhodes news reported.
The Robert Mangaliso Sobukwe Trust commended "Rhodes University for heeding to the #RhodesMustFall and #FeesMustFall call to rename the residencies in their institution named after racist white supremacist colonial settlers responsible for the historical dispossession and dehumanization of African people."
Mankayi Enoch Sontonga
South Africa's national anthem 'Nkosi Sikelel' iAfrika' was written by Enoch Mankayi Sontonga in 1897 for his school choir. Mankayi was a teacher at Lovedale College where he became a choirmaster. The African National Congress (ANC), adopted 'Nkosi Sikelel' iAfrika' as its anthem. Countries such as Tanzania and Zambia adopted the song as their national anthem.
Mmakgamo Charlotte Maxeke
We hardly hear of a lot of females involved in the anti-apartheid struggle in South Africa. A leading female in the struggle was Maxeke who was one of South Africa's first black female graduates. Maxeke received her BSc degree from Wilberforce University in the US in 1901, aged 30. Maxeke was the first woman to participate in the King's court in Thembuland; the founder and president of the Bantu Women's League. Maxeke was the first black woman to become a parole officer.
Robert Sobukwe
Sobukwe founded the Pan Africanist Congress in opposition to the South African apartheid system. He openly defied pass laws and led a march to the local police station at Orlando in Soweto on 21 March 1960. It was on this same day in Sharpeville that Sobukwe led another protest that resulted in what became to be known as the Sharpeville Massacre, where 69 people were killed.
Rhodes University Vice Chancellor, Dr Sizwe Mabizela said, " These name changes are collective small steps to promote the redress of past imbalances and a celebration of the cultural identity and geographical location of the University."
Other universities are also getting involved in name changes including the recent renaming of a science lecture theatre in the University of Cape Town to the Chris Hani Lecture Theatre. The renaming of buildings in South African universities reflects on the intellectual space being a solid platform for wider socio-economic change.