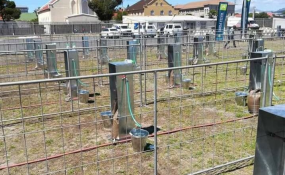 Photo: @MyWaterMeter/Twitter
Heavy rainfall over the past month has brought much relief to most parts of the country as certain areas continue to battle severe drought.
The Department of Water and Sanitation, in its weekly report, stated that the average dam levels across the country had increased from 80.6% last week to 81.8% this week.
The Orange River - South Africa's major river - was captured on video by Mervin Westley flowing into the Atlantic Ocean "for the first time in a long time!"
This follows a continued decline in dam levels and reservoirs in the Northern Cape that led the department to urge residents to use water sparingly and municipalities to implement water conservation programmes.
The Western Cape received much-needed rain this week as the City of Cape Town struggles with its worst drought in more than a century.
The South African Weather Service has warned that more heavy rain is on the way over most parts of the Cape metropole, accompanied by gale-force winds - the second time a warning has been issued for the Mother City.
According to The City of Cape Town, overall dam levels in and around Cape Town have dropped by an average of 0.9% from 20.9% last week to 20.0% this week as level 6B water restrictions remain in place.
Source: News24